NSA Mourns the Death of Senator John McCain
The National Sheriffs' Association offers our thoughts and prayers to the family and friends of Senator John McCain. Senator McCain was an American hero, a strong leader and a dedicated ally to the law enforcement community.
He worked to ensure that local law enforcement had the protections, resources, and support they needed to perform their duties in order to best protect their communities. We value and will always appreciate his steadfast commitment to supporting our sheriffs along the border.
In 2008, at the National Sheriffs' Association Conference in Indianapolis, Senator McCain spoke on the importance of law enforcement. He closed in saying, "Great challenges lie ahead of you, and you will meet them as those who carry the badge of law enforcement always have -- with courage and with honor. I thank each one of you for the dedication you bring to a hard job. I thank all of you for your commitment to the cause of justice."
Senator McCain worked to foster a trustworthy working relationship between local and federal law enforcement and government.  We thank him for his lifetime of service to this county, and his dedication to public safety and sheriffs around the country.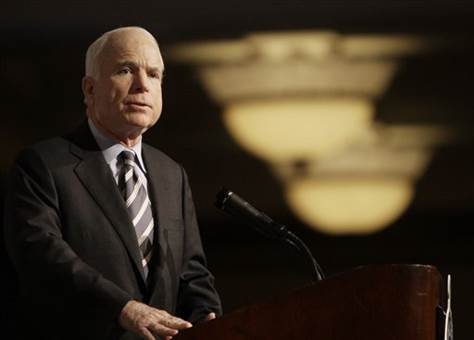 Image: Sen. McCain addresses attendees at the 2008 Annual Conference in Indianapolis