2019 Winter Conference
Join us in Washington, DC for the Winter Legislative and Technology Conference!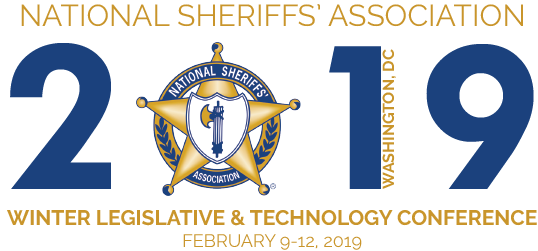 February 9-12, 2019
JW Marriott
1331 Pennsylvania Ave
Washington, DC
---
ANNOUNCEMENTS
AGENDA
A draft of the conference agenda is available
here
[updated 01/17/2019].
REGISTRATION
Registration is now open!
Visit https://nsawinter2019.voicehive.com to register today. You MUST register before you will be allowed to reserve a hotel room at our special rate.
There is a $575 registration fee for attendees and a $375 registration fee for spouses/guests for the Winter Conference. All registrations include buffet breakfasts and buffet lunches for 3 days and 2 receptions. 
JUST ADDED: 
Special one-day workshop presented by NSA and the National Tactical Officers Association on Contemporary Issues Facing Law Enforcement.
Monday, February 11, 2019
Cost: $89 if not attending the full NSA Winter Conference (lunch included!). Seminar topics include:
The Ramifications of Proposed Modifications to Use of Force Laws in America
Law Enforcement Response to Suicidal Subjects: Legal Realities and Options
MAGNNUS Pi2: Turbocharging Star Performance Leadership​
​Register at the above link using the special NTOA Seminars Only.
Certified Homeland Protection Professional (CHPP) Review Course and Test
Tuesday, February 12, 2019
Cost: $275 for in-person CHPP exam prep course (fee includes the certification test)
A Certified Homeland Protection Professional must have a predetermined blend of experience and education, show completed course work in the knowledge areas required by the Certification Board, and complete a rigorous qualification and testing program. Please refer to our website at www.globalhomeland.org for CHPP mandated qualifications required. Learn more about the CHPP requirements.
Enroll today
- select "In Person CHPP Exam Prep Course Only at NSA's Winter Conference (Tuition)" option
You do not need to register for the Conference to attend the prep course/test
---
After February 1, 2019, registration fees including on-site registrations remain the same; however no meals will be provided as guaranteed meal numbers must be provided to the hotel (Receptions will still be included).
HOUSING
Once you have completed Conference Registration, there will be a link to make your hotel reservations.
You must make your hotel reservations from our website in order to secure the conference rate.
The hotel's "Cut-Off date" for reservations at the Conference rate is Thursday, January 17, 2019. If you call the hotel to make your reservation, you will not be given the conference rate. The Room Rate this year at J.W. Marriott is $277 plus 14.5% tax ($317.17). 
---
At the NSA Winter Legislative & Technology Conference in Washington, DC, you can join high-level leadership from federal agencies, members of Congress, and very active Sheriffs who come together to explore current legislation and trending technologies and products.
2019 Exhibitors' Schedule**
Exhibits Setup

Saturday, February 9

Sunday, February 10

 

12 noon - 5:00 pm

7:00 am - 9:00 am

Exhibits Open

Sunday, February 10
 

Monday, February 11

 

9:00 am - 3:00 pm
(9:00 am - 12 noon)*

8:00 am - 12:00 pm
(10:00 am - 12 noon)*

* Exclusive Exhibit Hall Hours

Exhibits Tear Down

Monday, February 11

 

After 12:00 pm

** Times subject to change
Download Winter 2019 Exhibitor Contract with Rules & Regulations
---
Take advantage of this once-a-year marketing opportunity and become a sponsor. There are many exclusive sponsorship opportunities available to you at our annual conference. Increase your exposure — be a sponsor.
---
NOTICE: Unauthorized Companies Soliciting Services for NSA Conferences
We understand that our exhibitors and sponsors have been inundated with phone calls and emails from fraudulent companies claiming to represent the National Sheriffs' Association. We are making changes to the way we publish our exhibiting companies' information to help reduce those unwanted contacts. Please be assured that the following are the only currently approved vendors with regard to our annual conferences. If you are contacted by any other company claiming to represent the National Sheriffs' Association, please check with us before doing business with them.
Tradeshow Logic – Exhibit Sales
The YGS Group – Advertising, Sponsorship & Corporate Partnership
Voice Hive – Registration Contractor
Orchid Event Solutions – Housing Contractor
Brede Exposition Service – General Service Contractor
Convention Strategy Group – Lead Retrieval Contractor
Liberty CFS NV, Inc. – Official Freight Carrier
Projection Video Services, Inc. – Official Audio Visual Contractor
Convention Plant Designs – Official Plant-Flower Contractor