Webinars
The National Sheriffs' Association has teamed up with the Justice Clearinghouse to produce our popular webinars!
If you are interested in presenting a webinar, please contact Christina McCale at chris@justiceclearinghouse.com. You can check out all the webinar offerings JCH has to offer NSA here!
Looking for a past webinar? Check out our webinar archives for previous NSA webinars. 
---
Knowing that justice professionals are always living with ever-shrinking budgets, Justice Clearinghouse's goal is to bring conference-quality presenters to the justice community through webinars, thus eliminating the need for expensive travel, time-intensive attendance, and the frustration of trying to backfill positions. This also allows more of your team to benefit from the same great training content only a few could hear previously. 
What our partnership with JCH means for YOU:
All webinars are free to attend live.
A wide array of webinar topics, ranging from leadership and management to addressing mass casualty events, to dealing with cyber threats.
Interviews with expert speakers.
Infographics highlighting key topics of the webinars.
Other content relevant to law enforcement and public safety arena.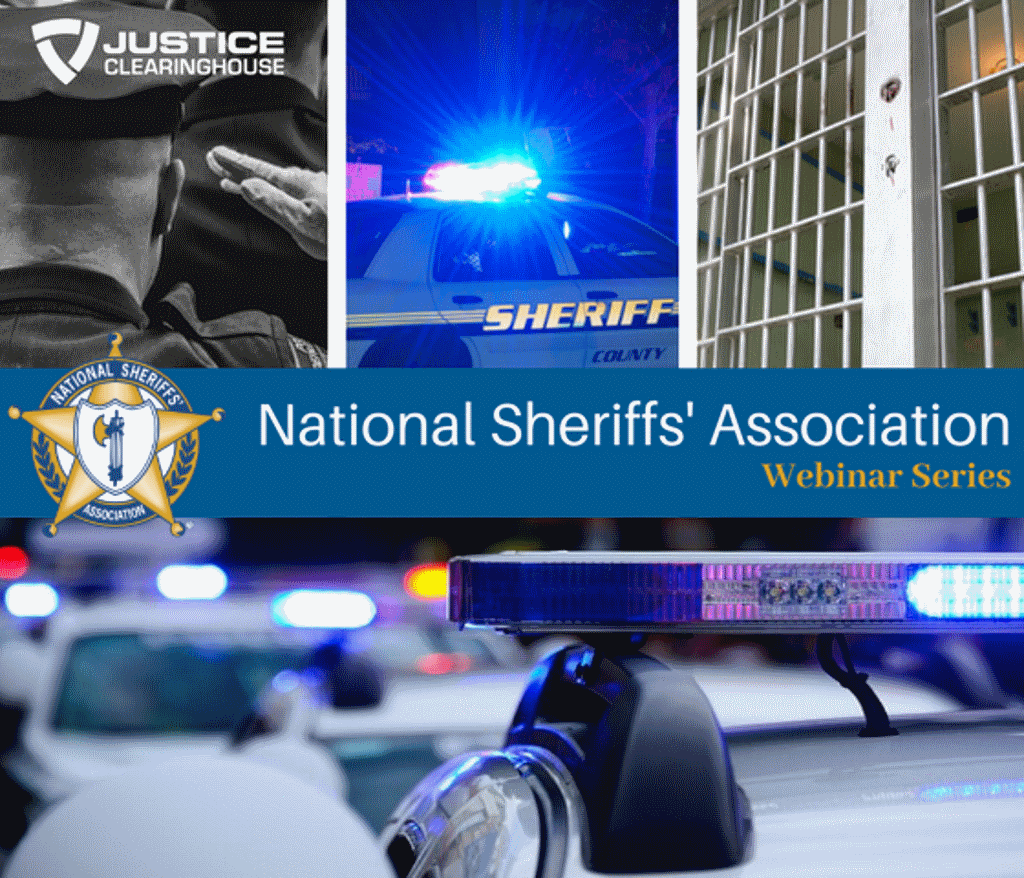 ---
2018 Webinars:
---
October 31st at 1pm ET: 
Animal Cruelty Reporting: What Law Enforcement and Justice Professionals Need to Know
The Federal Bureau of Investigation (FBI) added animal cruelty as a separate crime under Group A of the FBI's National Incident Based Reporting System (NIBRS), effective January 2016. This workshop describes the process by which that happened, the rationale for adding it to the FBI's crime database, and a detailed explanation of how to enter animal cruelty information on the incident reporting form. Case examples will be offered so that participants can get a sense of how to report information under various circumstances.
Presenter: Dr. Randour, a psychologist, is Senior Advisor, Animal Cruelty Programs and Training, Animal Welfare Institute, Washington, D. C. She has a Ph.D. from the University of Maryland, received a NIMH Postdoctoral Fellowship, was a Clinical Fellow in Psychology at Cambridge Hospital, Harvard Medical School, and is an Adjunct Professor in Psychiatry at The Uniformed Services University of the Health Sciences. She is the author of handbooks such as A Common Bond: Child Maltreatment and Animals in the Family, as well as AniCare Child, a treatment approach for children who abuse animals.
---
November 6th at 3pm ET: 
Opioids, Animal Welfare and K9 Safety
The opioid crisis has impacted animal welfare and working dog safety in several ways. This webinar reviews the risks to pets of opioid abusers and working K9s. Recommendations will be made to help keep pets of opioid abusers and working K9s safe, including risk mitigation and emergency preparedness. This material is appropriate for animal welfare workers, animal control officers, K9 handlers/officers, and veterinarians.
Learn about the common animal maltreatment (neglect and abuse) cases that are being seen resulting from the opioid crisis;
Learn steps to take to reduce the risk of opioid exposure in working K9s including emergency preparation with Narcan kits and other safety equipment.
Learn to recognize the signs of opioid intoxication in dogs and steps to take in an emergency.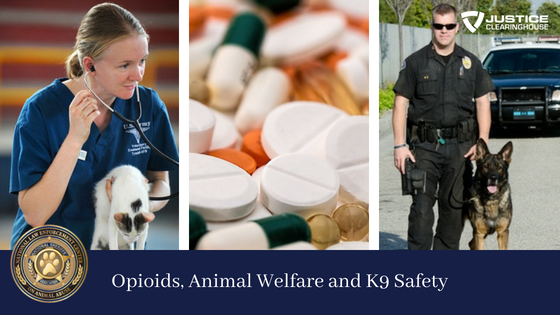 Presenter: A veterinarian experienced in animal welfare, emergency veterinary medicine and animal cruelty investigations, Dr. Smith-Blackmore has a special interest in working K9 safety as well as helping law enforcement and animal control officers feel confident in investigating allegations of animal cruelty. She is a member of the International Association of Chiefs of Police forensic science committee; the president of a veterinary forensics consulting group; an adjunct professor at the Tufts University Cummings School of Veterinary Medicine and a Fellow at the Center for Animals and Public Policy in North Grafton, Massachusetts.
---
November 7th at 1pm ET: 
Planning and Implementing Medication Assisted Treatment in Jails: What Justice Professionals Need to Know
The opioid epidemic is plaguing our nation and our nation's jails. This webinar will review Medication Assisted Treatment (MAT) within the jail setting. The overview will include discussions regarding the recently released Promising Practices Guidelines for Jails; NSA's Compendium highlighting the results from our National Jail Survey on MAT; New Pilot Programs including all three forms of MAT in Massachusetts; litigation challenges facing our Nation's Sheriffs and their Jails and most importantly, where to go for technical assistance and funding resources. 
You won't want to miss this webinar!
Presenters: Dr. Brent Gibson is Chief Health Officer for the National Commission on Correctional Health Care. As the organization's physician executive, he works in both a leadership and technical capacity and is deeply engaged in defining the overall strategy and direction of the organization. Dr. Gibson directly advises the CEO, various NCCHC committees, and the Board of Directors on a variety of matters with a special emphasis on issues with clinical and public health implications. He actively promotes the work of the Commission by serving in numerous outreach, facilitation, and technical support capacities. He works closely with thought leaders, clinicians, and elected officials to facilitate education, training, and technical assistance as they develop local solutions for providing quality health care to incarcerated persons with specific needs.
Carrie Hill is an attorney and national criminal justice consultant.  She has dedicated her 29-year career to providing professional development seminars in correctional law, along with criminal justice consulting, to educate and empower those working in the correctional industry.
---
November 15th at 1pm ET: 
Intelligence-Driven Strategies: Creating an Integrated Approach for Justice Agencies
In this webinar, justice practitioners will gain a better understanding of how security is enhanced and crime reduced through intelligence-driven-strategies.
Whether a narcotics detective, gang intelligence officer, jail administrator, or patrol deputy, attendees will learn some of the modern-day practical applications that harness the power from knowledge produced by the convergence of the latest intelligence methodologies and technologies.
Key questions to be answered in the session:
What are the real-world applications of technology in generating actionable intelligence in correctional and law enforcement environments?
What are the critical success factors associated with implementing intelligence-led philosophies? (e.g., best practices and lessons learned)
How can facilities or departments of any size or level of expertise leverage technology to manage the intelligence cycle and stay ahead of the latest trends?
NOTE: This webinar has been sponsored by GTL and the NSA. Webinar registration information will be shared with these partners.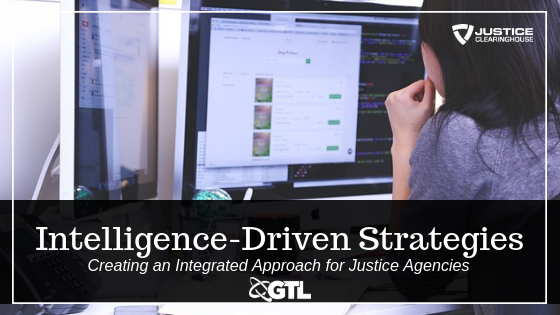 Presenter: Mitch Volkart is the Director of Intelligence and Security Solutions for GTL, where he is responsible for providing law enforcement and correctional agencies with intelligence-related solutions and services. He is also an active Deputy Sheriff in Cole County, Missouri. Mitch's 15+ years of law enforcement experience include establishing and managing the Criminal Intelligence Unit with the Missouri Department of Corrections, as well as GTL's FUSION services. Mitch possesses a Master of Science degree in Criminal Justice Administration and has taught Criminal Justice courses at the collegiate level.
---
December 11th at 1pm ET: 
Keeping Your Super Heroes Super
Public safety professionals are passionate about serving others; however, this calling can take its toll. High stress, low sleep, dealing with the worst of society and witnessing human tragedy reduces employees' mental/physical health. This class will explore the differences between stress, burnout and compassion fatigue and describe how to address each one, discuss why we all struggle to have balance in our lives and engage in regular self-care, detail what our "early warning systems" are, and describe specific strategies, tools and interventions that can be used by both individuals and organizations to foster healthy coping, balance and a positive mindset in employees.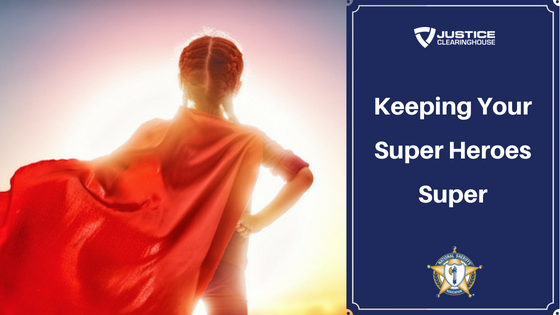 Presenter: Dr. Kimberly Miller. Dr. Miller is a sought-after speaker, consultant and trainer who has been inspiring and motivating individuals in our profession for over 14 years. She is a strength-based facilitator of individual and organizational change and is known for her relationship-based approach to her work and the skill-based, engaging training and consultation services she offers. She uses workshops, coaching, and organizational interventions to improve not only the individual line-level employee skills but also works to improve supervision, management, and the entire organization.
---
December 12th at 1pm ET: 
Excited Delirium and Agitated Chaotic Events: Recognizing, Responding, and Preventing Sudden, In-Custody Deaths
This is the most contemporary, scientifically- and evidence-based program on excited delirium and agitated chaotic events (ACE) you can attend! Learn how to identify and how to respond to these medical emergencies when they occur in your correctional setting.
Excited delirium events have been around for a long time. Although not a medical or psychological diagnosis, the term can be found in early 1800s medical treatises and in many contemporary medical and scientific articles. There are 4 broad evidence-based categorical causes of excited delirium behavior; often only drug-induced behaviors are discussed and taught. In addition to excited delirium behavioral cues select agitated chaotic events (ACE) are also identified, discussed, and taught to assist you and your agency in managing and minimizing liability. ACE events include, but are not limited to alcohol withdrawal, Post-Traumatic Stress Disorder (PTSD), epilepsy (SUDEP), and similar events. These events may result in an in-custody death.
In-custody deaths refer to the sudden, unexpected death of an individual who is in housed in your correctional setting. Many times, electronic control weapons (ECW) are associated with these deaths. This program discusses the role and scientific research about ECDs, and highlights the strengths and weaknesses of ECDs being associated with such deaths.
It is not a matter of "if" you or your jail setting will experience an in-custody death involving a person who is in a state of excited delirium or agitated chaotic state, but "when" it will occur. Be prepared. This webinar will help you to save lives, including your own, and possibly your career.
Presenter: Carrie Hill is an attorney and national criminal justice consultant. She has dedicated her 29-year career to providing professional development seminars in correctional law, along with criminal justice consulting, to educate and empower those working in the correctional industry.
---