National Law Enforcement Center on Animal Abuse
NLECAA intends to bring greater awareness to, and understanding by, our nation's law enforcement officers on the oftentimes misunderstood nature of animal abuse crimes and their link to violence against humans.
---
Need to report animal abuse/cruelty? Check out this valuable resource from the National Link Coalition on how to report animal abuse in your state. 
---
Check out this infographic that highlights the things John Thompson, Deputy Executive Director of the National Sheriffs Association, discussed during his webinar including the misunderstood nature of animal abuse crimes, and their link to violence against humans.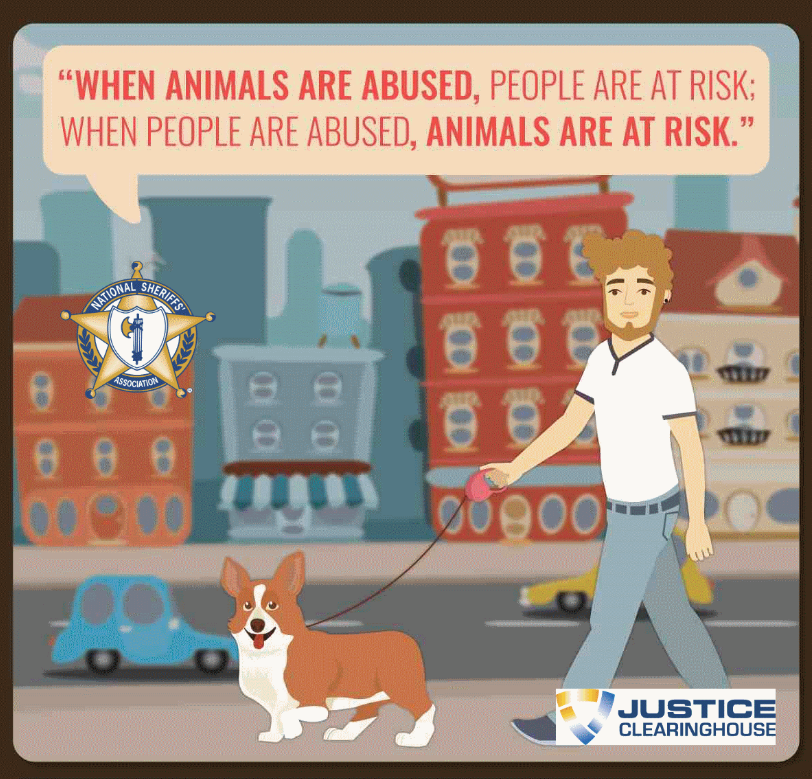 Click for full infographic
Also, check out John's webinar, Partners in Crime: The Link Between Animal Abuse and Human Abuse, as well as John's interview with JCH's Christina McCale, "The Link between Animal and Human Abuse: An Interview with John Thompson." 
The Justice Clearinghouse also has the following webinars scheduled:  
As if law enforcement and the communities they serve have not been dealing with a crisis recently, there is an even larger one seriously eroding public faith and profoundly affecting law enforcement/community relations. It is officers shooting family pets.
When dogs are shot by law enforcement, it rips at the basic thread that holds law enforcement and the community together.  Today there are more than 80 million dogs living in 57 million U.S. households. Sixty-three percent of those households consider their dog a friend and family member. Chances are very high that law enforcement will encounter dogs in their daily interaction with the public. When a law enforcement officer kills or shoots someone's dog, it deeply affects the family, as well as the officer, the neighborhood and the community.
The Federal Bureau of Investigation (FBI) added animal cruelty as a separate crime under Group A of the FBI's National Incident Based Reporting System (NIBRS), effective January 2016. This workshop describes the process by which that happened, the rationale for adding it to the FBI's crime database, and a detailed explanation of how to enter animal cruelty information on the incident reporting form. Case examples will be offered so that participants can get a sense of how to report information under various circumstances.
The opioid crisis has impacted animal welfare and working dog safety in several ways. This webinar reviews the risks to pets of opioid abusers and working K9s. Recommendations will be made to help keep pets of opioid abusers and working K9s safe, including risk mitigation and emergency preparedness. This material is appropriate for animal welfare workers, animal control officers, K9 handlers/officers, and veterinarians.
Just like Dogfighting, Cockfighting has links to other crimes like narcotics, and gambling and often involves large asset forfeitures.  This training will give local and state law enforcement and prosecutors the tools they need to identify and investigate cockfighting, strategies for building a case against suspected animal fighters, and tactics for successfully prosecuting cockfighting cases. 
Animal cruelty is more than just a legal issue, it's a community issue. If you improve animal welfare in a community, you improve public safety for everyone. This webinar discusses why people are cruel to animals, why it is important for investigators to take animal abuse seriously, types of animal abuse, crime scene investigations, preparing a case for prosecution and the trial of an animal abuse case. 
"Batterers who also abuse their pets are both more controlling and use more dangerous forms of violence [sexual violence, marital rape, emotional violence and stalking] than batterers who do not." Simmons & Lehmann (2007), Journal of Interpersonal Violence, Vol. 22, No. 9
This training will explore the link between animal cruelty and domestic violence and family violence; ensure that participants can identify signs of abuse/neglect to deliver appropriate interventions; make recommendations to support victim services and successful prosecution of cases.   We will also explore the link between animal violence and other kinds of violence:  school shooters and serial killers and the link between animal fighting and other kinds of crimes. 
Dog fighting is one of the most heinous forms of animal cruelty. Fighting dogs are regularly conditioned for fighting through the use of drugs, including steroids to enhance muscle mass and encourage aggressiveness and are typically raised in isolation on short heavy chains.
Dog fighting is often associated with other forms of criminal activity including illegal gambling and possession of drugs and firearms. This webinar explores common signs of dog fighting, collateral crimes of dog fighting and how to investigate and prosecute dog fighting cases.
Utilizing specialized prosecutions units and taskforces to aid local law enforcement in investigating difficult investigations and prosecutions.  Today, there are so many crimes vying for law enforcement's attention, a back to basics approach is necessary.  This training will highlight special animal prosecution units and taskforces.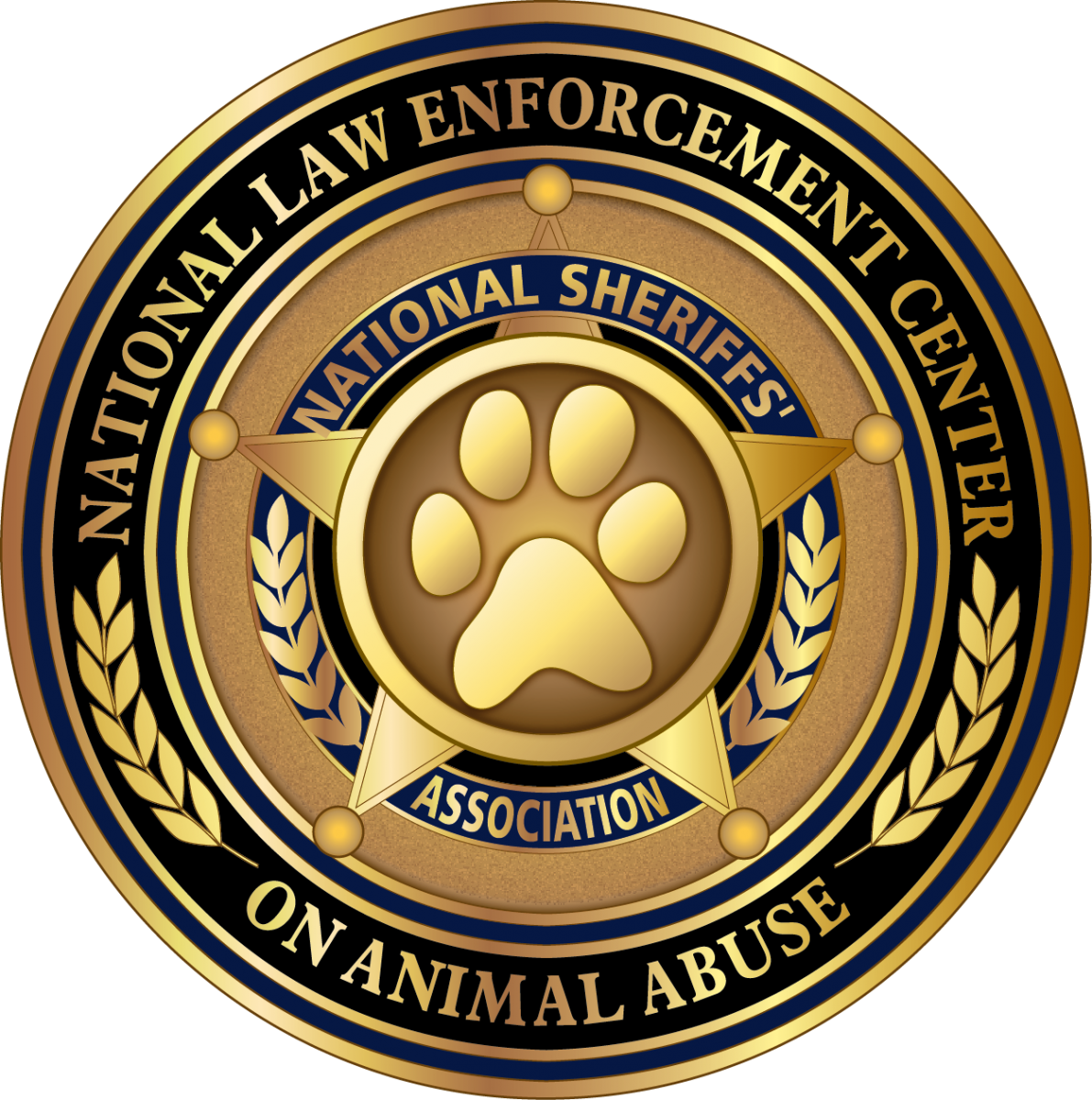 ---
The National Law Enforcement Center on Animal Abuse was established to provide law enforcement officers information on the realities of animal abuse and to promote their proactive involvement in the enforcement of animal abuse laws in their communities. Through our partners, the Center will serve as an information clearinghouse and forum for law enforcement on the growing problem of animal abuse and its link to other types of crimes, including violence against humans. Additionally, NLECAA seeks to train and education officers on how to handle officer-dog encounters more safely.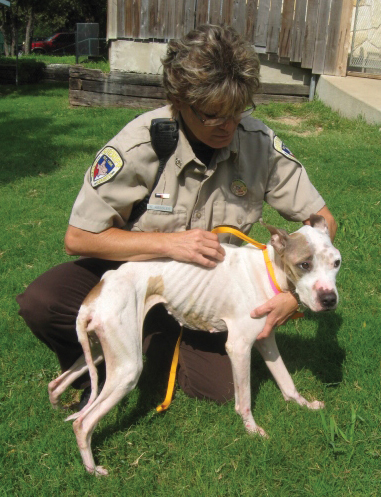 ---
---
---
Roll Call Videos
The National Sheriffs' Association has teamed up with the Humane Society of the United States (HSUS) to produce roll call training videos covering topics in animal abuse. The goal of the video series is to alert law enforcement officers to various types of animal cruelty crimes and how to investigate them, while working within their rigorous schedules. This allows agencies to keep officers up-to-date on animal cruelty crimes in their community through quick but efficient videos that can be built into their daily work.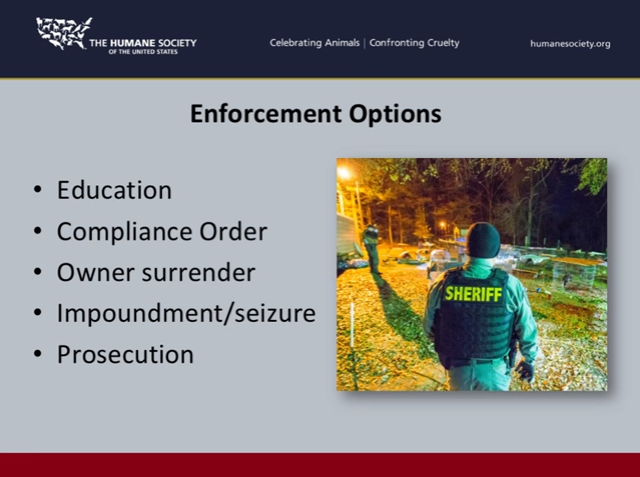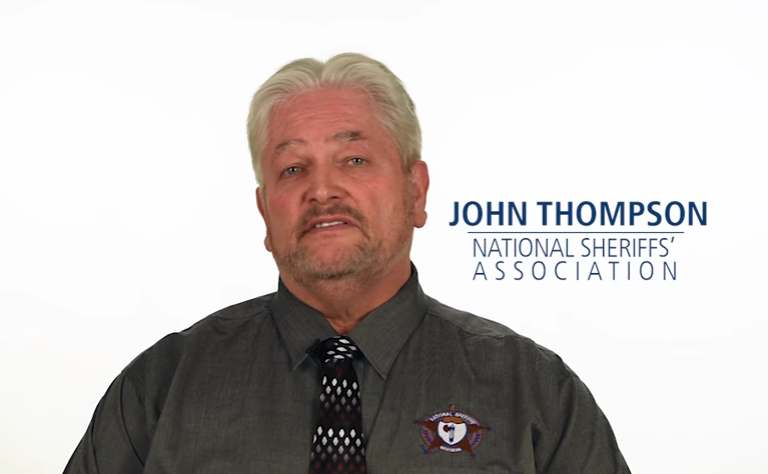 There are currently two videos available – "Cruelty and Neglect" and "Dog Fighting" – with plans for additional videos in the future. They feature experts in the subjects and are both prefaced by a message from NSA Deputy Executive Director John Thompson. Thompson is a vocal advocate from law enforcement in the realm of animal welfare and was integral in getting the FBI to finally include animal cruelty amongst its trackable offenses in the National Incident-Based Reporting System (NIBRS).
The link between animal abuse and subsequent or concurrent human violence is proven by research and it is imperative that law enforcement officers understand this link. These crimes typically involve more victims than just the animal. "If somebody is harming an animal, there is a good chance they also are hurting a human," said Thompson. "If we see patterns of animal abuse, the odds are that something else is going on." That's why it's crucial for law enforcement to be able to understand and recognize animal abuse crimes for the protection of everyone in their communities.
The HSUS provides no-cost training and support to law enforcement agencies across the country in handling animal abuse cases. For access to the videos, please contact Ashley Mauceri (amauceri@hsus.org) or April Doherty (adoherty@baltimorecountymd.gov). If you'd like more information on resources available to law enforcement to combat animal abuse, contact the National Law Enforcement Center on Animal Abuse (NLECAA), a program within NSA, at animalcruelty@sheriffs.org.
About our partnership with the HSUS.
---
Contact
Chelsea Rider, Director