Only a Punk Would Hurt a Cat or Dog!
NSA and SYSS partner to show the softer side of law enforcement in this 2019 calendar.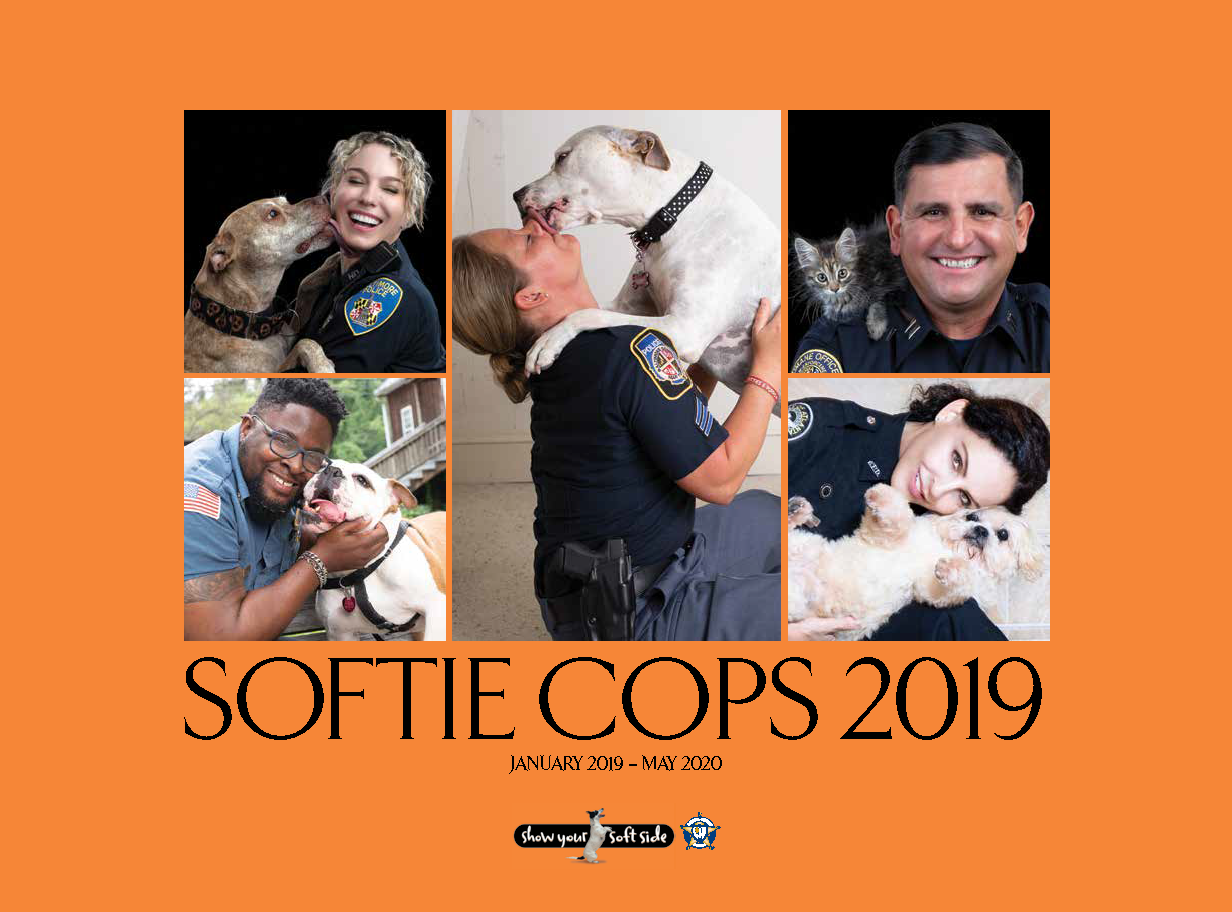 Donate $20 (x1), $35 (x2), or $50 (x3) to Show Your Soft Side to receive a Softie Cop calendar! 
Bulk orders (4 or more) are available for a donation of $15/per calendar by emailing info@showyoursoftside.org.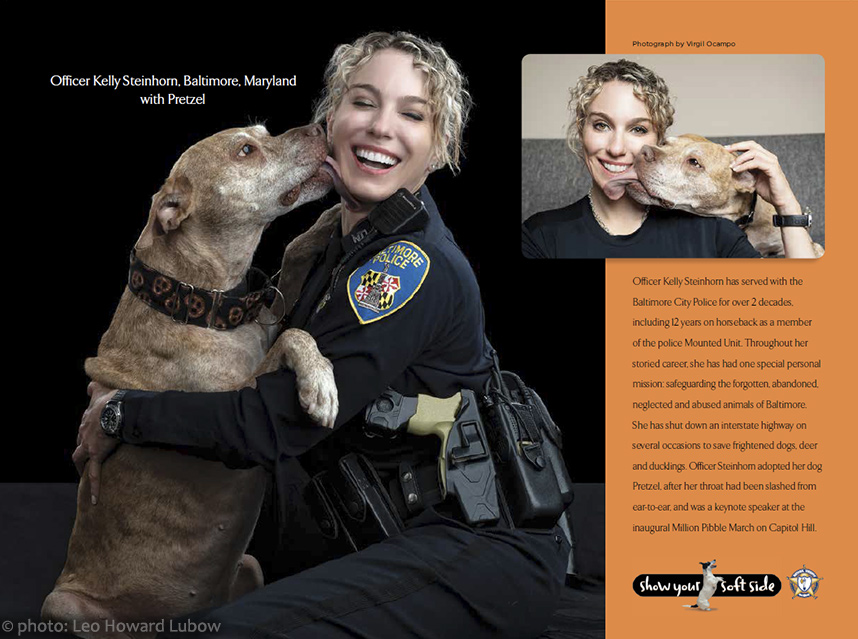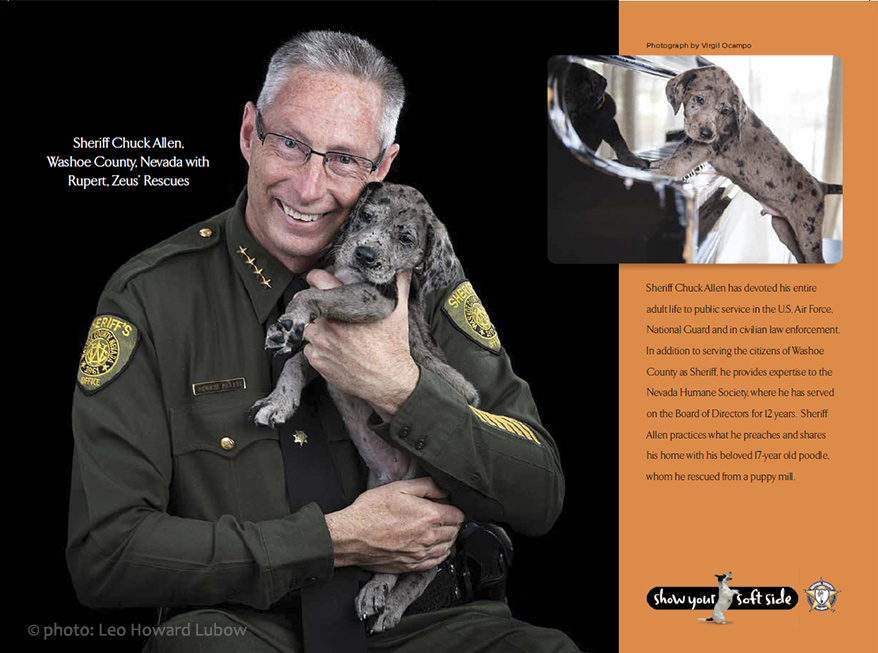 ---
Show Your Soft Side Partners with the National Sheriffs' Association for Limited Edition 2019 "Softie Cops" Calendar
(BALTIMORE) – Show Your Soft Side (SYSS), a public service campaign that works to end animal cruelty, and the National Sheriffs' Association (NSA), have joined together to honor law enforcement officials nationwide who help serve animals and aim to end animal cruelty with a 2019 "Softie Cops" calendar that is available now with proceeds benefiting SYSS.
"We have varied from our usual celebrity-studded calendar to honor law enforcement heroes around the country who have distinguished themselves in the field of animal protection," said Caroline Griffin, co-founder of Show Your Soft Side. "This calendar is an opportunity to salute the officers who diligently work to shield animals from violence and harm and we hope this will inspire others to follow their lead."
John Thompson, COO and deputy executive director of the NSA, is the nation's top cop in combating animal cruelty and serves on the SYSS Advisory Board. Thompson also created the National Law Enforcement Center on Animal Abuse (NLECAA) division to provide law enforcement officers with thorough information on the realities of animal abuse and as a means to promote proactive involvement in the animal abuse laws in their communities. The NSA is a leader in the fight against animal abuse and the NLECAA serves as an information clearinghouse and forum for law enforcement on the growing problem of animal abuse and its link to other crimes.
"I have wanted to do a project like this for years, and Show Your Soft Side was the perfect partner. Our missions are aligned, and SYSS has been a catalyst for enormous change through their meaningful messages and masterful photography," Thompson said.
The calendar features images from photographers Leo Howard Lubow and Virgil Ocampo, showcasing 17 officers from Washington, D.C. to Los Angeles:
1. SPO Amy E. Soeldner of Atlanta Police Department
2. Sheriff Chuck Allen of Washoe County, Nevada
3. Sheriff Carolyn "Bunny" Welsh of Chester County, Pennsylvania
4. Sheriff Troy E. Nehls of Fort Bend County, Texas
5. Sheriff Joe Sedinger of Autauga County, Alabama
6. Officer Kelly Steinhorn of Baltimore Police Department
7. Sgt. Hillary Wheeler of Baltimore Police Department
8. Detective Matthew Pow of Baltimore Police Department
9. Sheriff Richard Jones of Butler County, Ohio
10. Detective Sgt. Kimberly DeFelice of Baltimore County Police Department
11. Tony Schiena CEO at MOSAIC - Multi Operational Security Agency Intelligence Company
12. Sheriff James W. Muller of Adams County, Pennsylvania
13. Captain Jesse Jahner of Cass County, North Dakota
14. Humane Officer Captain Cesar Perea of spcaLA
15. Humane Law Enforcement Officer Stephon Daniels of Humane Rescue Alliance, Washington D.C.
16. K9 Handler Nicholas Ague of South Londonderry Township, Pennsylvania
17. Chris Holmes of FEMA Virginia Task Force One
SYSS is an all-volunteer non-profit organization and donations from the 2019 calendar will help to fund SYSS's anti-cruelty campaign and initiatives. Calendars are available at www.sheriffs.org/ShowYourSoftSide.