Law Enforcement Dog Encounters Training (LEDET) Scenario-Based Program
This canine encounter training is different from all others: this has been developed by law enforcement officers, for law enforcement officers.
---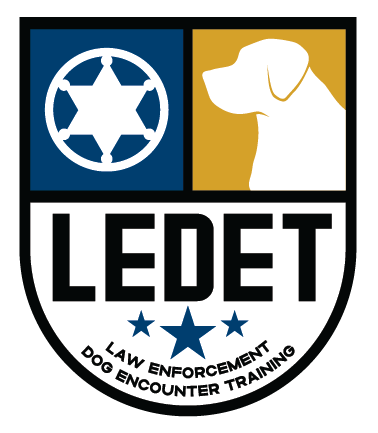 Check out this Executive Summary of the LEDET Program!
---
Deputies Learn How to Handle Dogs with Virtual Reality Training
New Training Hopes to Prevent Family Pets Killed by Police
NLECAA, NSA and VirTra Launch New Law Enforcement Training Program
New Law Enforcement Training Program to Reduce Animal Injury in Police Encounters
---
About Law Enforcement Dog Encounters Training (LEDET)
Purpose:
The purpose of this course is to teach law enforcement officers the basics of canine behavior and body language, threat assessments of encounters involving dogs, alternatives to lethal force, making the decision to use lethal force, and how to deal with the aftereffects of that decision, with an end-goal of being able to instruct other law enforcement officers on those key
concepts.
Target Audience:
Law enforcement officers and executives at the local, state, and federal levels.
The National Law Enforcement Center on Animal Abuse (NLECAA), its parent organization, the National Sheriffs' Association (NSA), and VirTra, Inc. (Nasdaq: VTSI) today announced the Law Enforcement Dog Encounters Training (LEDET) focused on police training for dog encounters. LEDET is the first of its kind training program and includes structured coursework on engaging and deescalating dog encounters, along with simulation training with VirTra's immersive, high-definition video training system. Together, the new training protocols help law enforcement officers learn safe interactions with domestic dogs. The LEDET program is a culmination of two years of collaboration between the National Sheriffs' Association and law enforcement executives, legal consultants, and behavior experts to develop a gold standard for protecting officers, pets, and the public. 
A demonstration of the scenario-based trainings was given by the Harford County (Maryland) Sheriff's Office on Wednesday June 6.
The LEDET scenario package will be officially rolled out in VirTra's booth at the 2018 National Sheriffs' Association Annual Education and Technology Expo, June 15-19 in New Orleans, LA.
Additional pilot programs are scheduled to occur in Orange County, Florida, and Oakland County, Michigan.
Focused on Police Training for Dog Encounters
The LEDET program is based on canine behavior science paired with advanced officer safety measures. The combination will enable police officers, sheriffs and other law enforcement officers  to make compassionate, safe decisions when interacting with pets under stressful circumstances. The Law Enforcement Dog Encounters Training course includes interactive scenarios where officers and dogs are placed in common situations. Using VirTra's branched decision-making technology, these interactions will enable officers to experience conflict and make choices in real-time. The course focuses on the use of less- and non-lethal methods of keeping officers, the public, and pets safe during contact.
This course is NOT to make each law enforcement officer a canine behavior expert. Rather, the intent of this training is to give police officers the knowledge and tools to safely handle dog encounters during their daily duties, and to keep officers, the public, and pets as safe as possible.
[Read the full press release here]
---
Resources
Legislation:
Model/Sample Policies:
Articles
Training
Position Statements: