Crime Victim Services Award
Now accepting nominations for the 2021 Crime Victim Services Award! Applications due 01/15/2022.
NSA recognizes that victims of crime have unique needs and that appropriate assistance to victims should be provided by law enforcement as early as possible in the response process. In an effort to focus more national and local attention on law enforcement services provided to victims of crime, NSA annually recognizes a Sheriff 's Office that has demonstrated outstanding achievement in support of victims with the NSA Crime Victim Services Award. Established in 2005 with funding support from the Office for Victims of Crime, the award has been generously sponsored by Appriss Insights since 2008.
Nominations for the Crime Victim Services Award may be submitted by any individual or organization. The Sheriff of the nominated Office must be an NSA member. Nominations should include a brief overview of the Sheriff 's Office, and then address the following questions, in addition to any other achievements of the Office that the nominating individual or organization may wish to highlight:
What accomplishments has the nominated Sheriff 's Office made on behalf of crime victims and how are those accomplishments innovative and unique?
How has the nominee's victim services and/or programs impacted the local citizenry?
How have the actions of the nominee influenced the policies, practices, and attitudes toward crime victims by its other governmental/non-governmental partner organizations in the community?
The deadline for receipt of nominations by NSA is January 15, 2022.
To nominate a sheriff's office for this award, please send a description of the victim services program with an explanation of why the agency is deserving of the award. Nominations should be no more than 10 pages in length including attachments.  E-mail nominations to the attention of Jessica Vanderpool at jessica@sheriffs.org.  For further information, contact Jessica at 703-838-5303.
---
2021 Crime Victim Services Award Winner
Suffolk County (NY) Sheriff's Anti-Trafficking Initiative (SATI)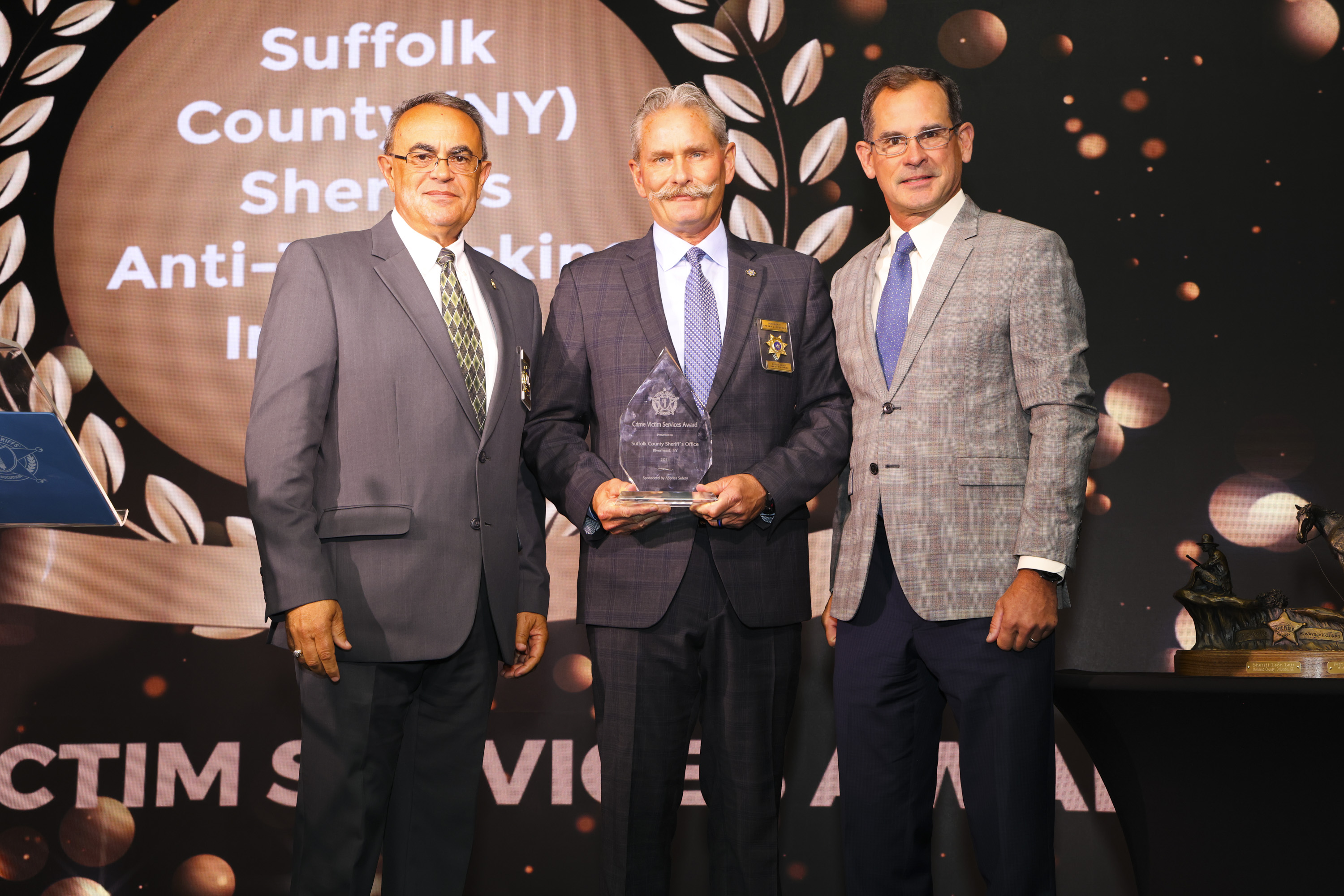 The Suffolk County Sheriff's Anti-Trafficking Initiative (SATI) is the first unit of its kind in a county jail focused on identifying human trafficking victims, connecting victims with services, and providing a robust continuum of community services.  Since its inception in August 2018, SATI has been pioneering the campaign against human trafficking on Long Island, New York by identifying victims and perpetrators and educating community stakeholders, and it has achieved impressive results. The unit consists of a Correction Officer Investigator and an Investigator Sergeant.
Since its inception, the SATI Unit has conducted over 2200 inmate interviews, identified 176 human trafficking victims and 120 perpetrators. This information, coupled with other data mined during interviews, has led to over 475 victim referrals for various services. The unit has also gleaned actionable intelligence from these cases. This information is referred to federal, state, and local law enforcement agencies, including the Federal Bureau of Investigations and Homeland Security, to build substantial cases against traffickers.
The SATI Unit uses a comprehensive screening tool and process to identify and aid victims. The screening system is used for every person who enters the Suffolk County Correctional Facility. SATI Unit investigators trained correction officers in the jail's Classification Unit to identify signs of victimization.  Some of the indicators they are attuned to include possession of hotel key cards, tattoos and markings, physical abuse signs, and possession of multiple cell phones and money.  Additional screening comprises the use of a questionnaire that inquires into life circumstances, housing, employment, history of abuse and neglect, substance abuse, and probes other known risk factors for human trafficking victimization.
If a potential victim is identified, the individual is referred to officers with the SATI Unit, who begin to discuss and educate the potential victim about human trafficking. This is a process; often, victims are not fully aware that they have fallen victim to human trafficking, and they are fearful of discussing personal information with members of law enforcement. As the comfort level evolves, SATI officers conduct a more comprehensive interview and then bring in social service and mental health workers to delve more deeply into the issues.  Many victims become accepting of the intervention services available to them using this team-based approach, such as post-release safe housing, substance abuse treatment, counseling services, and mental health treatment.  In addition, many of these victims begin their recovery and become more willing to share by participating in one of the correctional facility's designated rehabilitative housing areas, such as the Sheriff's Addiction Treatment Program.
The SATI Unit has also engaged with the community to help educate residents about the signs of human trafficking.  The officers created educational materials and conduct regular outreach with community groups.  Additionally, January is the month set aside for Human Trafficking awareness and blue is the color internationally accepted as representative of the endeavor. In recognition, the outside façade of the Suffolk County Sheriff's Office in Riverhead, NY is lit up in blue lights every night in January.    The officers in the SATI Unit also came up with another unique way to raise awareness this January.  They teamed up with the jail's rehabilitative emergency mask assembly program to create 2000 blue masks, which have been distributed to organizations and visitors to the correctional facility. .
---
Past Recipients
2020 Harford County, Maryland, Sheriff's Office
2019 San Francisco, California, Sheriff's Department
2018 Marion County, South Carolina, Sheriff's Office
2017 Canyon County, Idaho, Sheriff's Office
2016 Charleston County, South Carolina, Sheriff's Office
2015 Fayette County, Kentucky, Sheriff's Office
2014 Arapahoe County, Colorado, Sheriff's Office
2013 Orange County, Florida, Sheriff's Office
2012 Travis County, Texas, Sheriff's Office
2011 Orangeburg County, South Carolina, Sheriff's Office
2010 Douglas County, Colorado, Sheriff's Office.
2009 Cherokee County, North Carolina, Sheriff's Office.
2008 East Baton Rouge Parish, Louisiana, Sheriff's Office.
2007 Pinal County, Arizona, Sheriff's Office.
2006 Monroe County, Georgia, Sheriff's Office.
2005 Lafourche Parish, Louisiana, Sheriff's Office.