No-Cost, Customized Technical Assistance: the CRI-TAC is Here to Help
Law enforcement agencies today face increasingly complex and persistent challenges. As a law enforcement executive, you work hard every day to rise to those challenges, and often there are no simple solutions. You are not alone. Others have been where you are, and they stand ready to help you develop solutions. This is where Collaborative Reform Initiative Technical Assistance Center (CRI-TAC), formed through a partnership between the IACP and Office of Community Oriented Policing Services (the COPS Office), comes in.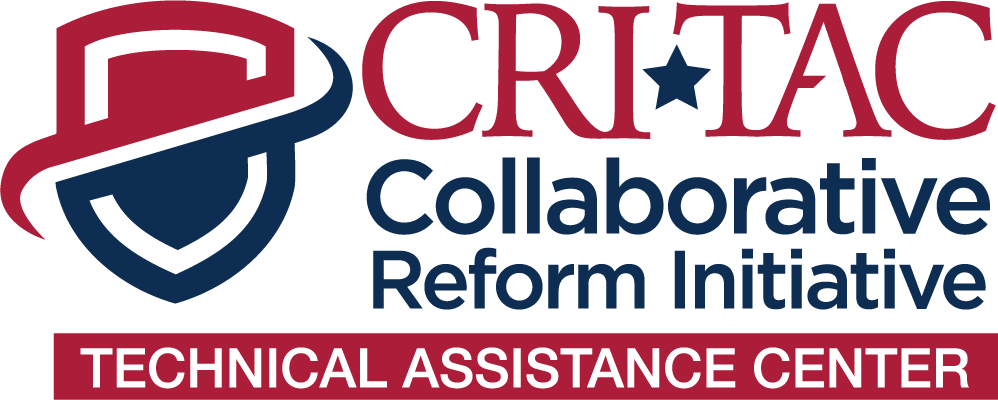 The CRI-TAC, provides a variety of services to law enforcement agencies throughout the United States. The CRI-TAC is focused on the concept of by the field, for the field. You receive assistance from the CRI-TAC's cadre of subject matter experts, offering peer-to-peer consultation, training, planning, and more to help your agency reach the forefront of cutting-edge innovation and evidence-based practices.
Built to meet the diverse needs of law enforcement agencies, the CRI-TAC is:
Comprehensive. The CRI-TAC provides access to the combined experience and resources of the IACP and eight leading law enforcement organizations: Fraternal Order of Police, Major Cities Chiefs Association, FBI National Academy Associates, International Association of Campus Law Enforcement Administrators, International Association of Directors of Law Enforcement Standards and Training, National Association of Women Law Enforcement Executives, National Organization of Black Law Enforcement Executives, and National Tactical Officers Association.
Collaborative. The CRI-TAC is founded on the philosophy that local involvement and accountability ensure agencies can meet the needs and expectations of their communities. 
Customized. The CRI-TAC knows that a policy or training that worked for one agency might not work for yours, so the CRI-TAC team will work with you to develop solutions tailored to your agency.
If you are interested in innovative and expert solutions, if you want to play an active role in the problem-solving process, and if you would like the opportunity to tailor a large variety of resources to your agency, then the CRI-TAC is for you.
Requesting assistance from the CRI-TAC is as simple as clicking a button or sending an email. Visit the CRI-TAC website and click the "Request Technical Assistance" button, or simply email CRITAC@theIACP.org. Tell us what makes your agency unique, such as size and location, and what your challenges are. The CRI-TAC team will focus on listening to you to develop a clear idea of your expectations, needs, and desired services. From there, we will work with you to develop an action plan and deliver the technical assistance solution you need.
Learn more about the CRI-TAC and request assistance on the CRI-TAC website, or email CRITAC@theIACP.org. You can also call the IACP at 800.THE.IACP and ask to speak to one of the CRI-TAC staff. 
---
The International Association of Chiefs of Police (IACP) is the world's largest and most influential professional association for police leaders. With more than 30,000 members in 150 countries, the IACP is a recognized leader in global policing. Since 1893, the association has been speaking out on behalf of law enforcement and advancing leadership and professionalism in policing worldwide.