Meet the Deputy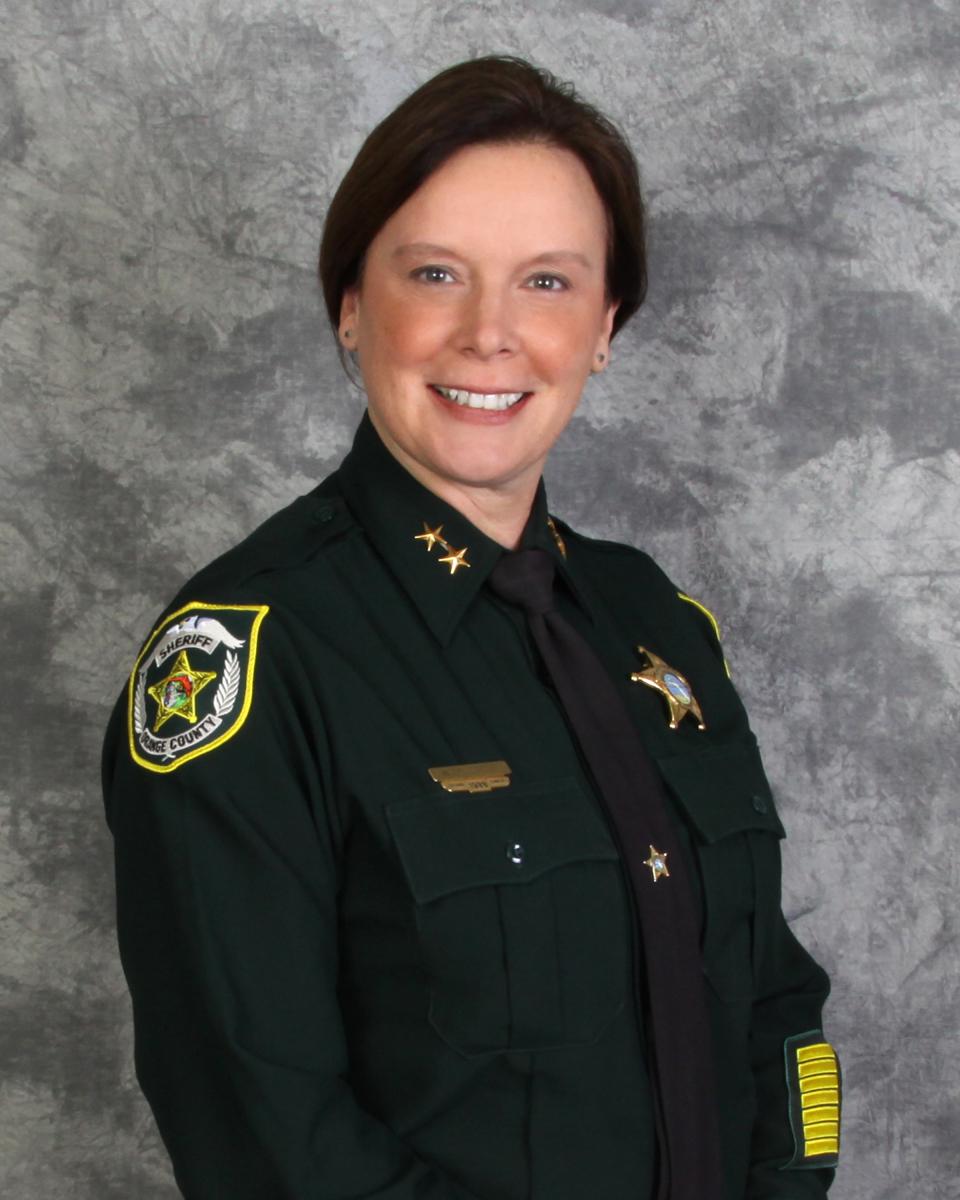 Chief Deputy Nancy Brown-Operational Services Bureau Commander
Chief Deputy Brown grew up in the small town of St. Marys, Ohio and graduated from high school in 1982; going on to attend college in Huntington, Indiana and graduated from Huntington University in 1986; receiving a Bachelor's Degree in Recreational Management.  Thereafter she moved to Florida after graduating from college because she loved the warm weather and the beach. During college Brown worked at the Florida Sheriff's Youth Ranches Summer Camp for underprivileged children in Barberville, Florida, where she spent four summers as a camp counselor; it was there Brown interacted with deputy sheriffs from all over the state of Florida and her work there is what inspired her to become a deputy sheriff.
Chief Deputy Brown was hired by the Orange County Sheriff's Office, in Orlando, Florida, and started her academy training in February of 1988. During her career as a Deputy, Corporal and Sergeant, she has had a number of varied assignments to include: patrol, vice, narcotics, juvenile boot camp, youth services; as a Lieutenant she supervised Patrol, Professional Standards and Youth Services; as a Captain it was on to Accreditation, Patrol Sector Commander, Criminal Investigations Division/Major Case and Professional Standards.  She spent two and a half years as the Major in charge of the Criminal Investigations Division and was then promoted to the Chief Deputy over the Operational Services Bureau. In December 2015, she also completed her Master's Degree in Criminal Justice at the University of Central Florida.
One of her favorite hobbies is to travel and spend time at the beach, spend time with family and friends and her wonderful dog; as well as enjoys the outdoors, laying by the pool, and reading a good book.
Career Highlight
A highlight of her career was having the opportunity to attend the FBI National Academy in Quantico, Virginia; class#244 in January, 2011.
She also enjoyed working in CID with an outstanding group of staff and detectives who were very passionate and dedicated to their work; along with the opportunity to be the patrol commander of the tourist district, including the theme parks and convention center; the business partnerships created were invaluable to keeping crime low and making the visitors feel safe.
During her career she has worked and supervised many diverse cases, but one of the most significant cases she was involved in is described below:
"I remember was when I was a Sector Captain and one of my deputies, Steve Cook was almost killed. A suspect attacked him while he was working a grand theft investigation inside of a 7-11. The suspect was armed with a box cutter and had made several aggressive movements, cutting Deputy Cook several times in the throat. While bleeding profusely from his neck, Deputy Cook was able to fire several rounds from his handgun, killing the suspect. He then collapsed from his own injuries. He was rushed to the trauma center and went into surgery immediately. It was unknown if Deputy Cook would survive his wounds. After several hours of surgery, waiting with his squad and family members, I was able to visit him briefly in the ICU. Doctors were optimistic about his recovery. I was relieved to know I would not lose one of my deputies that day. Going through that critical incident was an overwhelming reminder of how dangerous this job can be, but it also reminded me of what a noble profession we are in. On that day, I was very proud to see law enforcement officers from all over Central Florida came together and show support for Deputy Cook and his family. I will never forget that day. "
Personal motto
Philippians 4:13, "I can do all things through Christ who strengthens me."
The Orange County Sheriff's Office has approximately 2500 employees; 1500 are sworn; Sheriff Jerry L. Demings is the head of the agency; the Undersheriff, Reinaldo Rivero, is second in command along with the two Chief Deputies; one is in charge of the Administrative Services Bureau (ASB) and the other is in charge of the Operational Services Bureau (OSB); OSB has three divisions; Uniform Patrol Division, Criminal Investigation Division and Specialized Patrol Division; the ASB includes the Support Services Division, Courts and Communication Division and the Human Resources Division/ Training. The jurisdiction is all of the unincorporated areas of Orange County; Orange County encompasses 1,003 square miles; the total population of Orange County is approximately one million residents and approximately 64 million tourists have visited Orange County in the past year.