NSA Welcomes New Executive Committee Members
Phoenix, AZ – The National Sheriffs' Association (NSA) announced the newly elected members of its Executive Committee at the NSA's annual conference. The Executive Committee has supervision, control, and direction of the affairs of the Association and shall be Trustees of the Corporation.
The newly elected members are:
Sheriff William Bohnyak, Orange County, VT
Vice President
Sheriff Greg Champagne, St. Charles Parish, LA
2nd Vice President
Sheriff Kieran Donahue, Canyon County, ID
3rd Vice President
Sheriff Chris West, Canadian County, OK
Secretary
Sheriff Troy Wellman, Moody County, SD
Treasurer
Sheriff Mark Cage, Eddy County, NM
Sergeant-at-Arms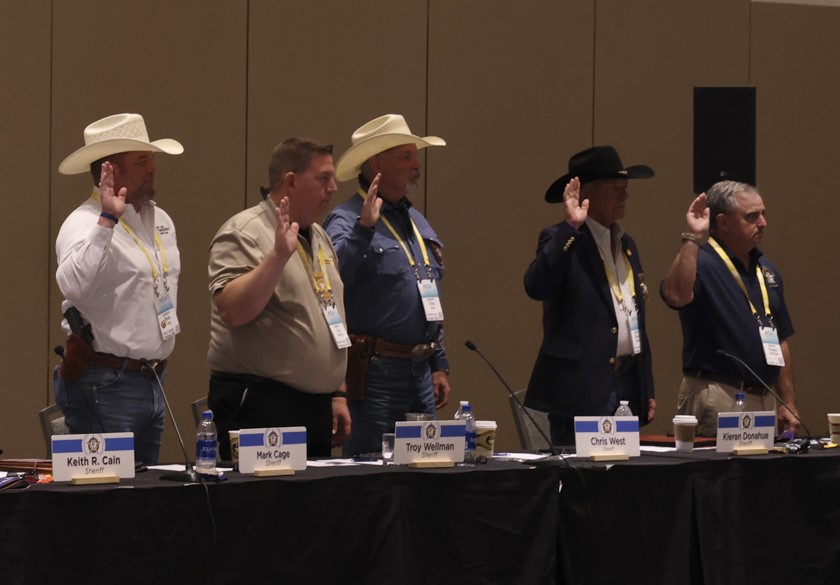 From left: Sheriff Mark Cage, Sheriff Troy Wellman, Sheriff Chris West, Sheriff Kieran Donahue, and Sheriff Greg Champagne
Not pictured: Sheriff William Bohnyak
---
About The National Sheriffs' Association:
The National Sheriffs' Association is one of the largest non-profit associations of law enforcement professionals in the United States, representing more than 3,000 elected sheriffs across the nation, and with a total membership of approximately 14,000 individuals. NSA is dedicated to raising the level of professionalism among sheriffs, their deputies, and others in the field of law enforcement, public safety, and criminal justice. Throughout its eighty-one-year history, NSA has also served as an information resource for all law enforcement, as well as local, state, and federal government agencies.
###