2021 Virtual Supplier Showcase
Reconnect with NSA member Sheriffs and Law Enforcement. 
Reserve your Supplier Showcase in the NSA Virtual Meeting now.
Each Supplier Showcase provides a premier opportunity to highlight your new products, programs, or information in a customized space within the meeting. NSA will drive traffic directly to Supplier Showcases by awarding specific points to each attendees when they visit each Showcase.  A grand prize winner will be drawn from the attendees with the highest number of points.
The Supplier Showcase will be open the entirety of the Virtual Meeting as well as through June 2021 on the NSA website.
You may choose from three customizable Supplier Showcase Tiers:
Sheriff: $5,000
Captain: $3,000
Deputy: $1,500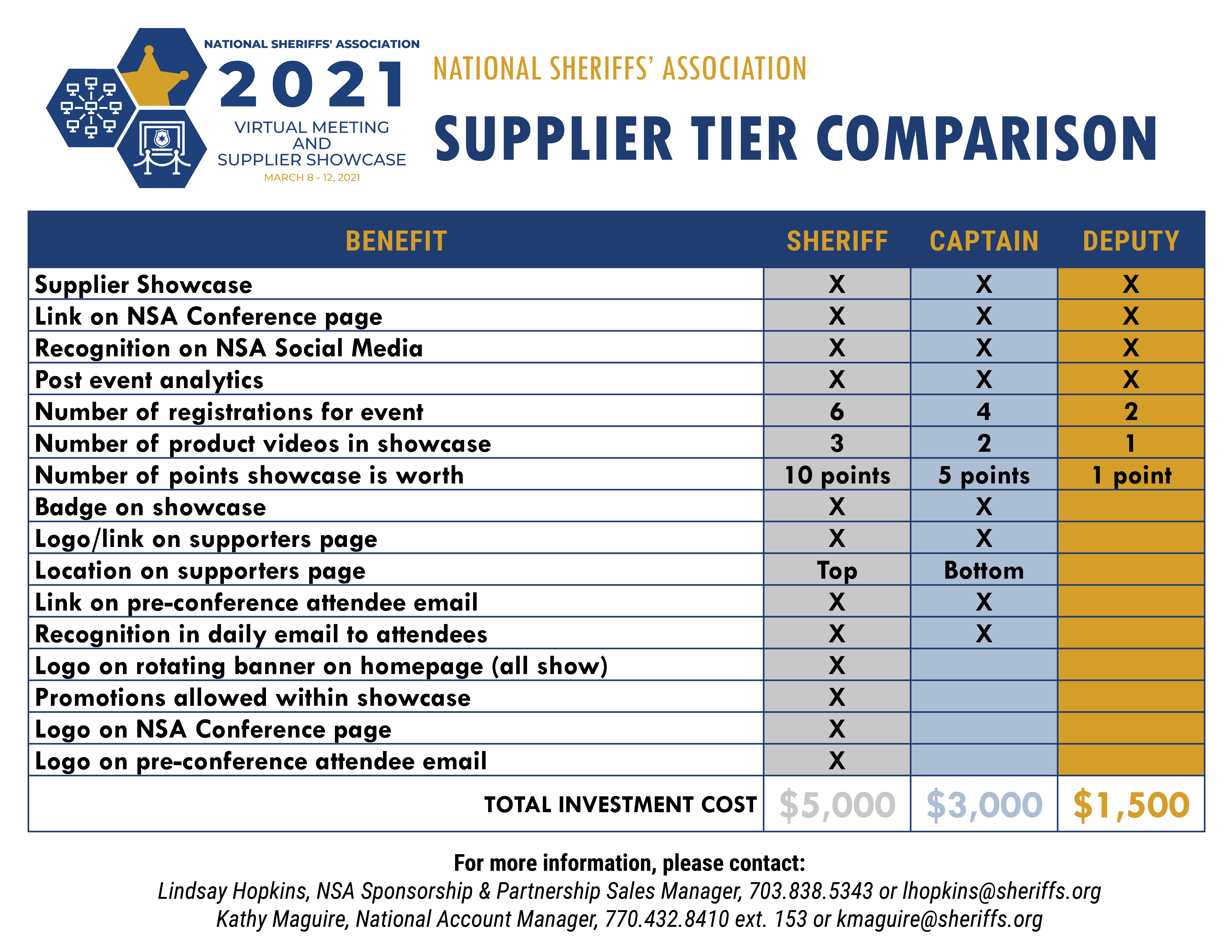 (Click for Printable PDF Version)
---
SHERIFF TIER: $5,000*
3 product videos in the Supplier Showcase
5 PDF downloads in the Supplier Showcase
Logo on rotating banner ad on conference page throughout whole conference
"Sheriff Tier" badge on showcase page highlighting your showcase
Promotions can be run within your showcase
Logo/link on top of supporters page
Logo/link on pre-conference email to attendees
Logo/link on conference page on NSA website
Recognition in daily email to attendees announcing agenda
Special thank you on NSA social media pages highlighting "Sheriff Tier"
6 registrations
Showcase worth 10 points for the Showcase Showdown
Post event analytics
CAPTAIN TIER: $3,000*
2 product videos in the Supplier Showcase
3 PDF downloads in the Supplier Showcase
"Captain Tier" badge on showcase page highlighting your showcase
Logo/link in the middle of supporters page
Link on pre-conference attendee email
Link on conference page on NSA website
Recognition in daily email to attendees announcing agenda
Special thank you on NSA social media pages highlighting "Captain Tier"
4 registrations
Showcase worth 5 points for the Showcase Showdown
Post event analytics
DEPUTY TIER: $1,500*
1 product video in the Supplier Showcase
2 PDF downloads in the Supplier Showcase
Link on conference page on NSA website
Recognition on NSA social media pages
Recognition on pre-conference attendee email
2 registrations
Showcase worth 1 point for the Showcase Showdown
Post event analytics
All tiers receive the following Supplier Showcase Options:
Logo
Promotional Video
Company Description
Product Information
Product Images
Product Videos
PDF Downloads
---
To reserve a Showcase or for more information please contact:
Lindsay Hopkins
NSA Sponsorship & Partnership Sales Manager
703.838.5343 or lhopkins@sheriffs.org
Kathy Maguire
National Account Manager
770.432.8410 ext. 153 or kmaguire@sheriffs.org