COVID-19 Scam & Fraud Alerts and Resources
National Sheriffs' Association COVID-19 Scam Alerts
On behalf of the more than 3000 sheriffs across the nation – thank you for being our eyes and ears on the ground during the COVID-19 pandemic.
Recently, we've seen individuals posing as law enforcement, with phony badges and blue lights, taking advantage of quarantine rules to defraud or harass people across the country.
We are also seeing scammers attempting to sell illegal COVID-19 home testing kits. The FDA warns that there is currently no approved COVID-19 home testing kit. If you see such activities, please direct people to contact their local law enforcement agency and report the scams directly to the FDA.
Additionally, the FBI is warning there has been increased phishing emails seeking donations or asking to verify personal information in an attempt to steal identities and money.
The sheriffs' message to every law-abiding citizen is to remain calm and work together to ensure the safety of the community, state and nation.  The sheriffs' message to criminals who take advantage of this dire situation is we will not rest until you are brought to justice.
Graphics
We've created a series of graphics to help sheriffs warn about COVID-19-related scams - more will be added as new scams come to light: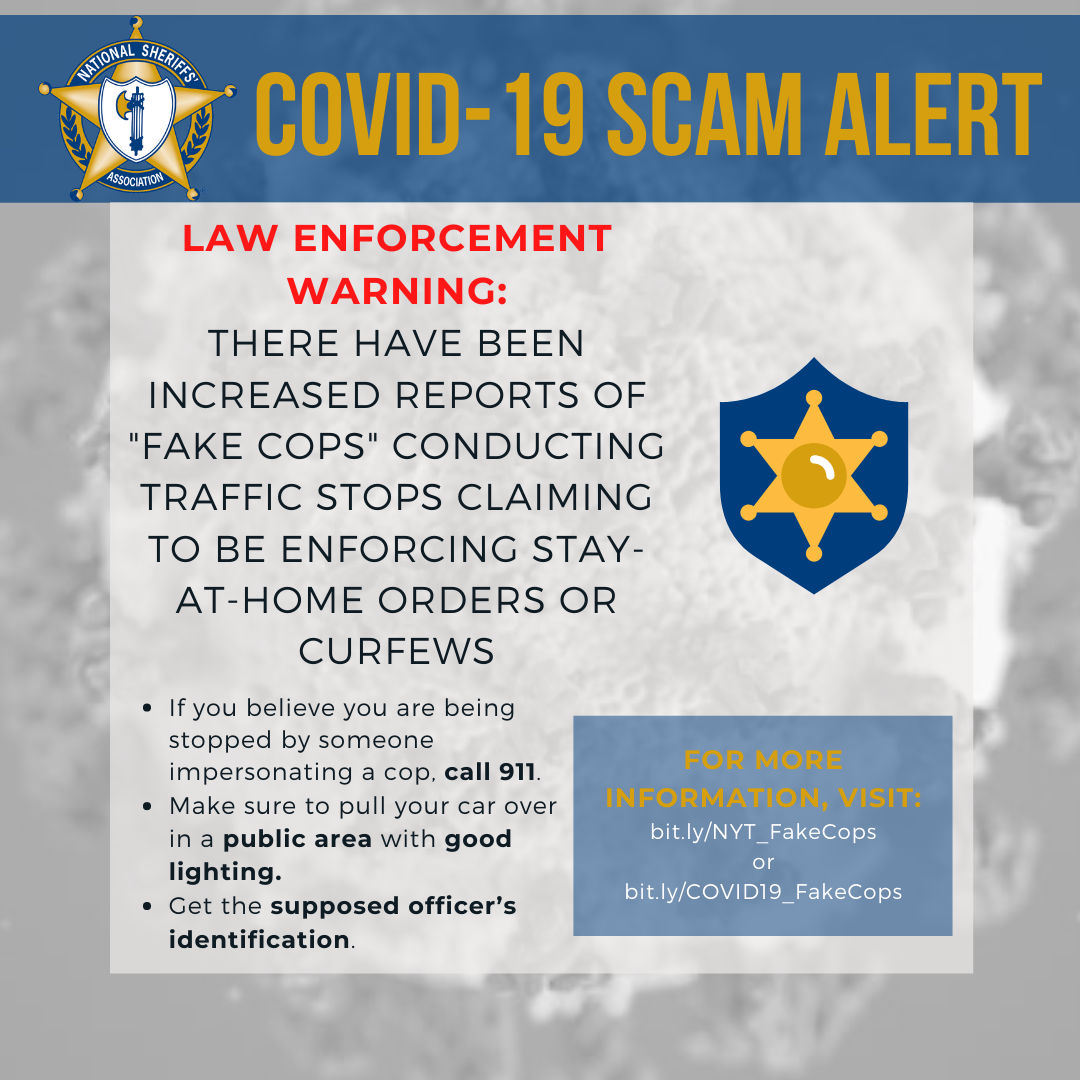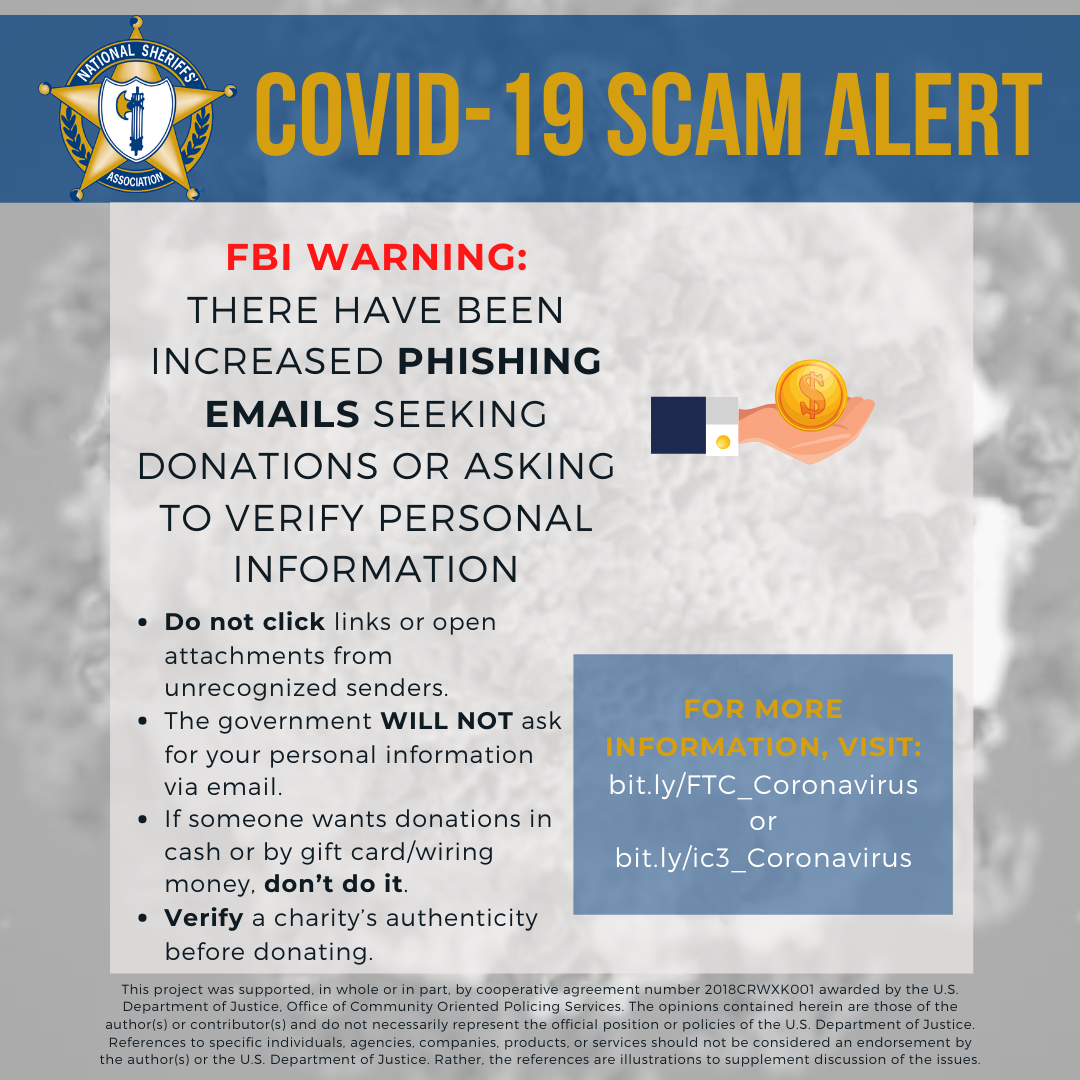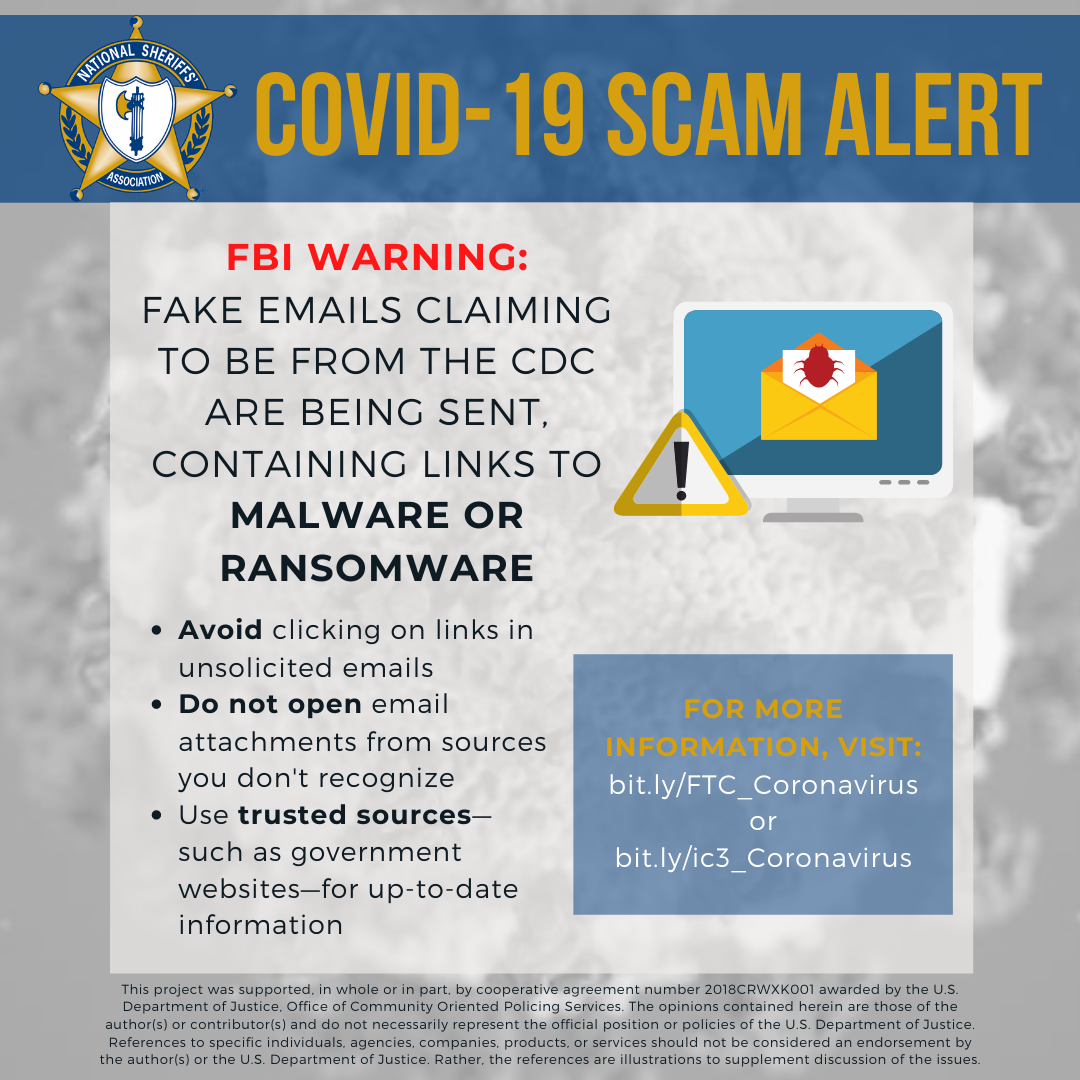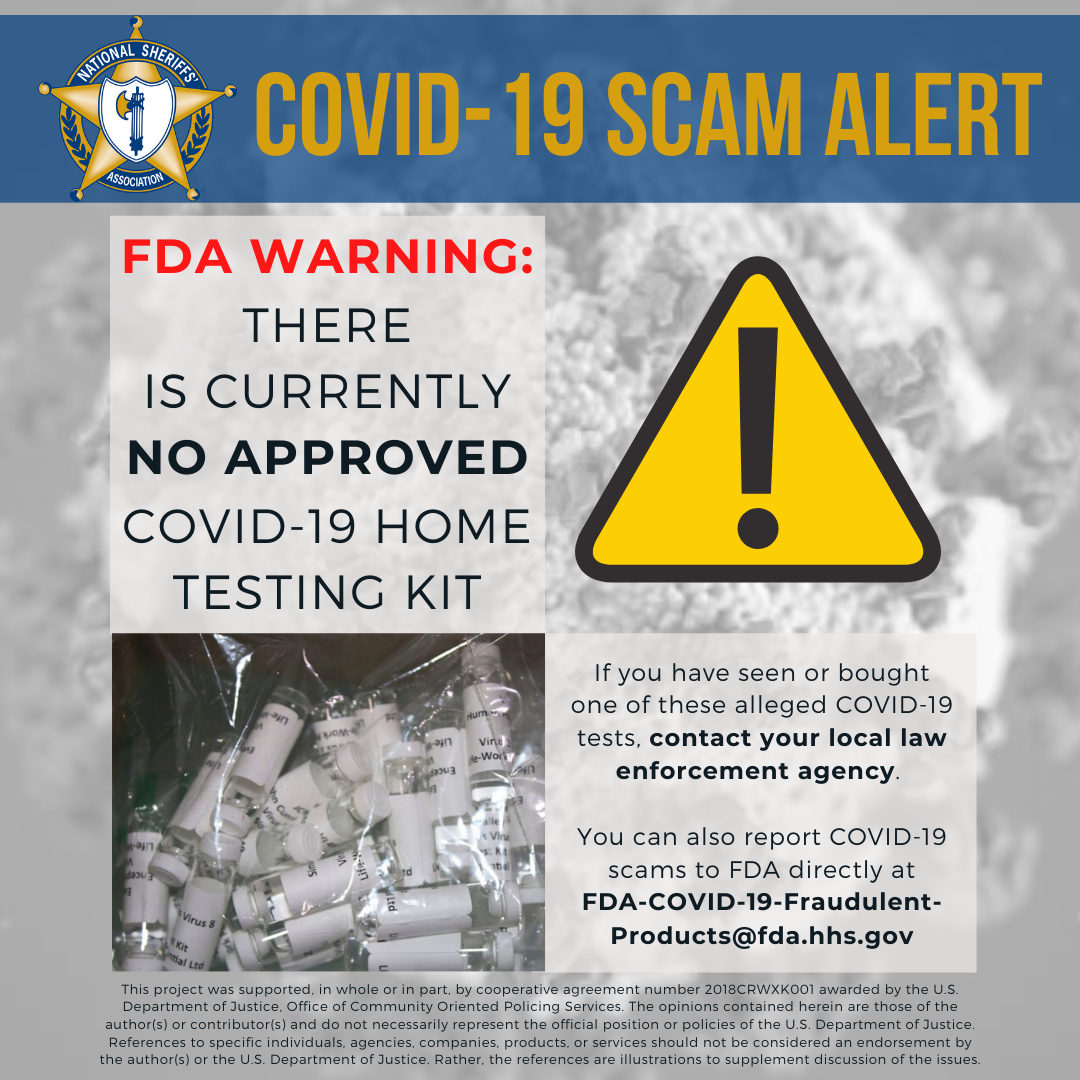 ---
Scam/Fraud Resources:
Tips from the FTC to Avoid COVID-19 Scams
Hang up on robocalls. Don't press any numbers. Scammers are using illegal robocalls to pitch everything from scam Coronavirus treatments to work-at-home schemes. The recording might say that pressing a number will let you speak to a live operator or remove you from their call list, but it might lead to more robocalls, instead.
Ignore online offers for vaccinations and home test kits. Scammers are trying to get you to buy products that aren't proven to treat or prevent the Coronavirus disease 2019 (COVID-19) — online or in stores. At this time, there also are no FDA-authorized home test kits for the Coronavirus. Visit the FDA to learn more.
Fact-check information. Scammers, and sometimes well-meaning people, share information that hasn't been verified. Before you pass on any messages, contact trusted sources. Visit What the U.S. Government is Doing for links to federal, state and local government agencies.
Know who you're buying from. Online sellers may claim to have in-demand products, like cleaning, household, and health and medical supplies when, in fact, they don't.
Don't respond to texts and emails about checks from the government. The details are still being worked out. Anyone who tells you they can get you the money now is a scammer.
Don't click on links from sources you don't know. They could download viruses onto your computer or device.
Watch for emails claiming to be from the Centers for Disease Control and Prevention (CDC) or experts saying they have information about the virus. For the most up-to-date information about the Coronavirus, visit the Centers for Disease Control and Prevention (CDC) and the World Health Organization (WHO).
Do your homework when it comes to donations, whether through charities or crowdfunding sites. Don't let anyone rush you into making a donation. If someone wants donations in cash, by gift card, or by wiring money, don't do it.
Learn more at http://ftc.gov/coronavirus
Combatting Coronavirus Frauds
The Department of Justice is remaining vigilant in detecting, investigating, and prosecuting wrongdoing related to the crisis.  In a memo to U.S. Attorneys, Attorney General Barr said, "The pandemic is dangerous enough without wrongdoers seeking to profit from public panic and this sort of conduct cannot be tolerated."
Types of fraud being reported:
Individuals/businesses selling "cures" for COVID-19
Phishing emails purporting to be from the CDC or WHO 
Malicious websites and apps offering information that then take control of devices until payment is received ("ransomware")
Organizations seeking donations for illegitimate/non-existent charities
If you think you are a victim of a scam or attempted fraud involving COVID-19, you can report it without leaving your home though a number of platforms.