White House Response to COVID-19
President Issues Executive Order Prioritizing and Allocating Health and Medical Resources to Respond to the Spread of COVID-19
By the authority vested in me as President by the Constitution and the laws of the United States of America, including the Defense Production Act of 1950, as amended (50 U.S.C. 4501 et seq.) (the "Act"), and section 301 of title 3, United States Code, it is hereby ordered as follows:
Section 1.  Policy and Findings.  On March 13, 2020, I declared a national emergency recognizing the threat that the novel (new) coronavirus known as SARS-CoV-2 poses to our national security.  In recognizing the public health risk, I noted that on March 11, 2020, the World Health Organization announced that the outbreak of COVID-19 (the disease caused by SARS-CoV-2) can be characterized as a pandemic.  I also noted that while the Federal Government, along with State and local governments, have taken preventive and proactive measures to slow the spread of the virus and to treat those affected, the spread of COVID-19 within our Nation's communities threatens to strain our Nation's healthcare system.  To ensure that our healthcare system is able to surge capacity and capability to respond to the spread of COVID-19, it is critical that all health and medical resources needed to respond to the spread of COVID-19 are properly distributed to the Nation's healthcare system and others that need them most at this time.
Accordingly, I find that health and medical resources needed to respond to the spread of COVID-19, including personal protective equipment and ventilators, meet the criteria specified in section 101(b) of the Act (50 U.S.C. 4511(b)).  Under the delegation of authority provided in this order, the Secretary of Health and Human Services may identify additional specific health and medical resources that meet the criteria of section 101(b).   
Sec. 2.  Priorities and Allocation of Medical Resources.
(a)  Notwithstanding Executive Order 13603 of March 16, 2012 (National Defense Resource Preparedness), the authority of the President conferred by section 101 of the Act to require performance of contracts or orders (other than contracts of employment) to promote the national defense over performance of any other contracts or orders, to allocate materials, services, and facilities as deemed necessary or appropriate to promote the national defense, and to implement the Act in subchapter III of chapter 55 of title 50, United States Code, is delegated to the Secretary of Health and Human Services with respect to all health and medical resources needed to respond to the spread of COVID-19 within the United States.
(b)  The Secretary of Health and Human Services may use the authority under section 101 of the Act to determine, in consultation with the Secretary of Commerce and the heads of other executive departments and agencies as appropriate, the proper nationwide priorities and allocation of all health and medical resources, including controlling the distribution of such materials (including applicable services) in the civilian market, for responding to the spread of COVID-19 within the United States.
(c)  The Secretary of Health and Human Services shall issue such orders and adopt and revise appropriate rules and regulations as may be necessary to implement this order. 
Sec. 3.  General Provisions. 
(a)  Nothing in this order shall be construed to impair or otherwise affect:
(i)   the authority granted by law to an executive department or agency, or the head thereof; or
(ii)  the functions of the Director of the Office of Management and Budget relating to budgetary, administrative, or legislative proposals.
(b)  This order shall be implemented consistent with applicable law and subject to the availability of appropriations.
(c)  This order is not intended to, and does not, create any right or benefit, substantive or procedural, enforceable at law or in equity by any party against the United States, its departments, agencies, or entities, its officers, employees, or agents, or any other person.
DONALD J. TRUMP
THE WHITE HOUSE,
March 18, 2020.
---
15 Days to Slow the Spread
Yesterday afternoon, President Trump and the White House Coronavirus Task Force issued new guidelines to help protect Americans during the global Coronavirus outbreak.
The new recommendations are simple to follow but will have a resounding impact on public health. While the President leads a nationwide response, bringing together government resources and private-sector ingenuity, every American can help slow the virus' spread and keep our most high-risk populations safe:
Listen to and follow the directions of your state and local authorities.
If you feel sick, stay home. Do not go to work. Contact your medical provider.
If your children are sick, keep them at home. Contact your medical provider.
If someone in your household has tested positive for the Coronavirus, keep the entire household at home.
If you are an older American, stay home and away from other people.
If you are a person with a serious underlying health condition—such as a significant heart or lung problem—stay home and away from other people.
---
President Trump and Members of the Coronavirus Task Force Hold a News Conference
This evening, the President and members of the task force briefed reporters on the extensive efforts underway to continue effectively combatting coronavirus.
THE PRESIDENT'S AGGRESSIVE RESPONSE
PRESIDENT TRUMP: "Because of all we've done, the risk to the American people remains very low. We have the greatest experts in the world, really in the world, right here. The people that are called upon by other countries when things like this happen. We're ready to adapt and we're ready to do whatever we have to as the disease spreads, if it spreads."
VICE PRESIDENT PENCE: "President Trump's made clear from the first days of this Administration, we have no higher priority than the safety, security, health and well-being of the American people. And from the first word of an outbreak of the coronavirus, the President took unprecedented steps to protect the American people from the spread of this disease."
HHS SECRETARY AZAR: "The President's early and decisive actions – including travel restrictions – have succeeded in buying us incredibly valuable time. This has helped us contain the spread of the virus, handle the cases that we have, and prepare for the possibility that we will need to mitigate broader spread of infections within the United States. The President's actions taken with the strong support of his scientific advisers have proven to be appropriate, wise, and well-calibrated to the situation."
VICE PRESIDENT PENCE
PRESIDENT TRUMP: "I'm going to be putting our Vice President Mike Pence in charge and Mike will be working with the professionals – doctors and everybody else that's working. The team is brilliant. I spent a lot of time with the team over the last couple of weeks. But they're totally brilliant and we're doing really well, and Mike is going to be in charge. And Mike will report back to me."
VICE PRESIDENT PENCE: "My role will be to continue to bring that team together, to bring to the President the best options for action to see to the safety and well-being and health of the American people. And we'll also be continuing to reach out to governors, state and local officials. In fact, in the recent days, the White House met with over forty state, county and city health officials from over 30 states and territories to discuss how to respond to this -- to the potential threat of the coronavirus."
VICE PRESIDENT PENCE: "We'll also be working with members of Congress to ensure that the resources are available for this whole of government response and we will be working very closely with Secretary Azar and his team that have done an outstanding job communicating to the public to ensure the American people have the best information on ways to protect themselves and their families and also that the public has the most timely information on the potential threat to the American people."
HHS SECRETARY AZAR: "And I just want to say I could not be more delighted that you've asked the Vice President, my old friend and colleague, to lead this whole of government approach with us."
EMERGENCY FUNDING
PRESIDENT TRUMP: "We were asking for $2.5 billion and we think that's a lot. But the Democrats and, I guess, Senator Schumer wants us to have much more than that. And normally in life I'd say 'we'll take it', 'we'll take it.' If they want to give more, we'll do more. We're going to spend whatever's appropriate."
SCREENING AND CONTAINING CORONAVIRUS CASES
PRESIDENT TRUMP: "Now, what we've done is we've stopped non-US citizens from coming into America from China. That was done very early on. We're screening people, and we have been at a very high level, screening people coming into the country from infected areas. We have in quarantine those infected and those at risk. We have a lot of great quarantine facilities."
PRESIDENT TRUMP: "Of the fifteen people – the original fifteen, as I call them – eight of them have returned to their homes, to stay in their homes, until fully recovered. One is in the hospital. And five have fully recovered. And one is, we think in pretty good shape. And that's in-between hospital and going home. So we have a total of -- but we have a total of fifteen people and they're in the process of recovering, with some already having fully recovered."
EXTENSIVE PREPARATION EFFORTS
PRESIDENT TRUMP: "But we're very, very ready for this – for anything – whether it's going to be a breakout of larger proportions or whether or not we're, you know, we're at that very low level. And we want to keep it that way."
HHS SECRETARY AZAR: "There are five major priorities in the White House request to Congress that the White House made on Monday. These priorities are first, expanding our surveillance network, second, support for state and local governments' work, third and fourth, development of therapeutics and vaccines, and fifth, manufacturing and purchase of personal protective equipment like gowns and masks."
CDC PRINCIPAL DEPUTY DIRECTOR SCHUCHAT: "However, we do expect more cases. And this is a good time to prepare. We—as you heard, it's the perfect time for businesses, health care systems, universities, and schools to look at their pandemic preparedness plans, dust them off, and make sure that they're ready. And we have lots more information at the CDC'S website and in partnership on how to do that. But it's also a really good time for the American public to prepare and for you to know what this means for you."
CDC PRINCIPAL DEPUTY DIRECTOR SCHUCHAT: "We're in this together, all of government, the public and the private sector. And the CDC wants to make sure you have the best information available every day."
DEVELOPING A VACCINE
PRESIDENT TRUMP: "We're rapidly developing a vaccine and they can speak to you, the professionals can speak to you about that. The vaccine is coming along well and in speaking to the doctors, we think that this is something that we can develop fairly rapidly."
---
President Trump Is Leading an Aggressive Coronavirus Response and Preparation Effort
The Administration is taking aggressive and proactive measures, working closely with state and local partners to protect the public health 
The full weight of the U.S. Government is working to safeguard the health and safety of the American people
Because of the President's decisive actions at the outbreak of the coronavirus, we are better able to prepare for potential transmission here in the U.S.

HHS SECRETARY AZAR: "This preparation has been possible in-part because of how aggressively President Trump has responded to this outbreak."

Because of the President's prudent travel restrictions and early containment strategy, local government officials have been granted time to prepare.

HHS SECRETARY AZAR: "In the United States, thanks to the President and this team's aggressive containment efforts, this disease – as Dr. Schuchat said –  is contained. We are now two weeks with no additional U.S.-based cases. 14 cases on February 11th, 14 cases today. That is remarkable level of containment here in the United States. The only additional cases we have are ones we imported as part of our humanitarian repatriation efforts."

The Administration takes this threat incredibly seriously and is working in a spirit of full transparency to keep the public informed as the situation rapidly evolves globally.

HHS SECRETARY AZAR: "We're doing the most aggressive containment efforts in modern history to prevent further spread in the United States. We're going to continue taking those measures. But we are realistic that we will see more cases and as we see more cases, we might have to take community mitigation efforts. What will those look like? We're being transparent about those also."

We are educating the public and state, local, and private sector partners about what the additional containment and mitigation measures would look like if needed.

CDC PRINCIPAL DEPUTY DIRECTOR SCHUCHAT: "We've begun laying out for the public what it will look like to mitigate the spread of the virus. There are obvious common-sense tools like good hygiene, social distancing, things like staying home when you're sick, things we talk about during a difficult flu season."

The Administration is expediting the development of a vaccine and therapeutics for the coronavirus.

NIAID DIRECTOR ANTHONY FAUCI: "We would hope to be in clinical trials within two to three months. And I said, barring any glitches, that would be the fastest ever in any vaccine, that we've gone from the identification of a pathogen to putting it into a human in a phase one trial."

We are proactively working to minimize the risk of medical product shortages and monitor any risk to our supply chains.

FDA COMMISSIONER HAHN: "We are proactively reaching out to hundreds of medical product manufacturers to gather information about the supply chain. First, it's is important to note that FDA is not aware, not aware, of any medical product shortages at this time."
The Trump Administration has taken action to aggressively prepare for any coronavirus development, including requesting new funding and authorities from Congress.
Between the new funding and authorities being requested, the Administration expects to allocate at least $2.5 billion in response to the coronavirus.

This vital funding will be used for a wide ranging response, including public health preparedness, laboratory testing, quarantine costs, and the development of vaccines. 
The funding will increase personal protective equipment for the national stockpile.

The Trump Administration is in regular communication with state and local officials to make sure every community is prepared for any future coronavirus development.

On February 24, the White House met with over 40 state, county, and city health officials from over 30 states and territories on how to respond to the coronavirus.
On February 10, the Coronavirus Task Force provided an update at the National Governors Association Winter Meeting about the U.S. response to the coronavirus.

Multiple agencies are prepared to assist state and local governments in dealing with any new development that may arise from the coronavirus.

CDC has mobilized state health departments to receive returned travelers.
Across the country, 62 Public Health Emergency Preparedness programs are part of the multi-agency infrastructure working on quarantine, isolation, case finding, protecting health care workers, and assuring medical supply chains.
FEMA is readying over fifty teams to respond and support states and territories that may need assistance.

The Trump Administration has taken steps to ensure medical professionals have the tools they need to confront any outbreak of the coronavirus.

More than 30 million masks have been stockpiled and a request for funds to purchase additional resources has been provided to Congress.

Providing critical information to the public on preventing any possible spread of coronavirus has been and remains a critical priority of the Trump Administration.

This includes vigilante practice of good hygiene, increased understanding of symptoms, and staying home when feeling ill.
President Trump has led the way in addressing the coronavirus and has allowed the U.S. to stay ahead of the outbreak as it has developed.
Early in the outbreak, President Trump formed a Coronavirus Task Force led by a cabinet level official, Secretary Azar, to organize an all of government approach.

This task force is comprised of subject matter experts from across the government, including some of the nation's foremost experts on infectious disease. 

The Administration has taken unprecedented steps to ensure that travelers do not spread the virus in the United States.

Airport screenings have been expanded to identify anyone showing symptoms.
The President suspended entry into America of certain foreign nationals who have recently traveled to China and who pose a risk of transmitting the disease.

The Administration has declared a public health emergency and has utilized reserved funding to help support response efforts to the virus, including increased education to identify cases.
The U.S. is working to expedite the development of a vaccine, and is consulting experts and expanding research to better understand the transmission of coronavirus.
Because of the actions taken by President Trump, the risk of infection for Americans remains low and precious time has been gained to keep it that way.
---
United States is the Most Prepared to Deal with a Potential Pandemic
The Global Health Security Index prepared by Johns Hopkins University shows that the U.S. is the most prepared to deal with a pandemic.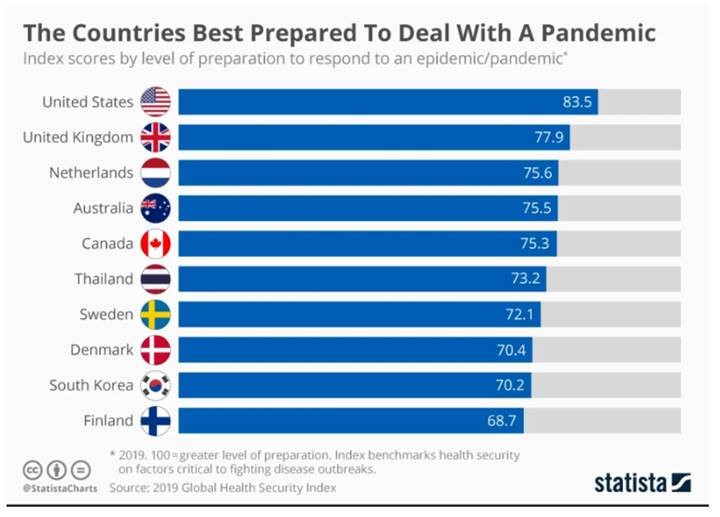 [Click image to view the report]